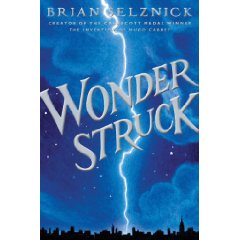 Brian Selznick broke all paradigms with The Invention of Hugo Cabret –a thick chunkster of a novel that is more than half pictures. A story for the older elementary reader (and up) that is filled with beautiful pictures that help tell the story? Unheard of.
Wonderstruck follows this same pattern, and I loved it!
I read this book in one day (3 sittings of 30 or 40 minutes each). Though I'm a bona fide booklover, I don't usually get stuck in a book now that real-life has put real demands on me. However I was compelled to return again and again to the pictures and text to see what would happen.
The story follows two different characters living in two different eras set in two different towns. We first meet Ben Wilson who is 9ish years old in 1977 and living on Gunflint Lake, Minnesota with his aunt, uncle and cousin after his mother's death. Feeling out of place and following a lead, he decides to run away to find his father who he's never met. The second part of the story is told completely in pictures. Rose is a 9ish year old girl living in 1927 in Hoboken, New Jersey.
These two kids share some amazing parallels. They are both deaf. They both run away from home, and they both end up in the American Museum of Natural History in New York City.
Obviously you have to suspend some disbelief, but what child can't do that? And in fact — what child doesn't want to do that? This adult sure did.
At the end of the story, the author gives some fascinating notes about the origin of the story and gives a hat tip to From the Mixed-Up Files of Mrs. Basil E. Frankweiler, as he says that any work in which runaway kids end up in a museum should. He also challenges the reader to find more parallels, and I immediately thought of a few (and would undoubtedly find a few more if I read it a second time, which I'm sure I will at some point).
I recommend this book for 3rd or 4th grade on up. There are some mature themes, such as the question about who Ben's father is, and the idea of children being (or at least feeling) unloved. Though I think my own 2nd grade son would enjoy parts of this story, I want to wait for him to read it until he can fully appreciate all elements of this wonderful book. My 8th grade daughter, who loved Hugo Cabret, was quite interested in reading this one right away.
This is a 5-Star Read for sure. Because of its unique hybrid format, it would make a great gift.

Jennifer Donovan may have just figured out why she loves middle grade fiction so much, because she gets to suspend disbelief in a completely realistic way. She blogs at Snapshot.