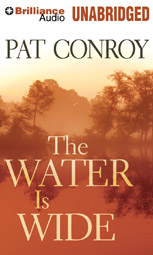 When I posted in Mailbox Monday that I had received a copy of the audiobook of Pat Conroy's memoir The Water is Wide, Kathy of Bermuda Onion commented, "I loved The Water is Wide and kind of envy you for getting to experience it for the first time." Only minutes into listening to the CD, I realized that her comment perfectly sums up the experience of reading this book.
The Water is Wide is one of those stories that will make an impression on you.
I remember reading Pat Conroy's The Prince of Tides and seeing the movie years and years ago. I've never re-read it, but I haven't forgotten it either.
The Water Is Wide is a memoir about Pat Conroy's early career teaching African American students on the remote Yamacraw Island of South Carolina in 1969. These kids are isolated by the island — so much so that many do not even know what country they live in. Many of these kids cannot read at all and some do not even know their alphabet, though they are all over 10 years old.
This is a story about teaching, and if you are looking for an inspirational story to share with your favorite teacher (be he or she a relative or your child's own teacher), this is it. Conroy's youthful idealism coupled with the frustration of dealing with the old guard is something that many teachers faced with similar challenges will be able to identify with. Any adult who works with youth will understand the compassion and love that he has for his students. There is some strong language in it, but it's appropriate to the time and the situation. If you avoid language altogether, you'll probably want to skip this one (although I think that the story is completely worth an exception and some overlooking of off-color language).
Conroy looks back at the "carnival of blind hatred in my early years of high school . . . (when) the "n-word" felt good on my tongue," to his evolution in college to one who was ashamed of that way of thinking, to one who later reached out to this population when he became "The White Teacher" on the island populated mostly by African Americans.
This story is told with honesty, empathy, and lots of humor. I simply can't recommend it highly enough.
Open Road Media has made Pat Conroy's early works, including this one (and the Prince of Tides, which I think I'm going to pick up), available as ebooks for your favorite e-reader. Check out their Pat Conroy ebook page for more, or look for them on your favorite ereader platform today.
AUDIOBOOK NOTES: I don't think I've heard a book read by Dan John Miller before, but his reading added tremendously to the story. I always enjoy a first person novel or memoir in audiobook format, but this went above and beyond. Not only is this a 5-Star book, but a 5-Star audio version by Brilliance Audiobooks as well. I am glad that I experienced the book in this way.
Jennifer Donovan finds little in life more satisfying than connecting with a good book. Connect more with her by reading her blog Snapshot.