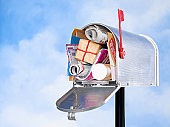 We love sharing our bounty with our regular readers to give you a sneak peek of reviews to come, and we love meeting new book bloggers through the fun Mailbox Monday carnival. This month it's hosted by Bermuda Onion.
While you're here we invite you to check out our current giveaways, subscribe to our feed, and/or follow us @5M4B on Twitter.
We'd also love for you to check out our Fall Festival of Children's Books (and giveaways).

JENNIFER
For me:

Kids' and YA Books:
What is it with unsolicited books arriving on my doorstep and speaking some sort of message to me?? Last month I got Brave Girl Eating (linked now to my review) the day after talking with my tween daughter about her saying that she is fat, and then on Thursday right after I wrote up a post called Are Your Kids Proud of You?, I My Mommy Hung the Moon: A Love Story. It's a little creepy.
I was surprised to get an email from The Literate Mother saying I had won their random monthly drawing for commenters. Great site. Great idea. The books I got are Dangerous Neighbors and The King Of The Trees , along with a fun t-shirt.
I actually bought some books too, both for my 12-year-old daughter —
NANCY
I finally got 2 audiobooks from Brilliance audio and I'm very excited about both of them.
DAWN
This week was again heavier on kids' books, but there was one little goodie for me, too.
The winter holidays may be months away, but publishers are getting ready to start publicizing their holiday collections. We've been thinking a lot about Christmas with these new books that arrived on our step this week:
From Sleeping Bear Press:
From Sterling Publishing: