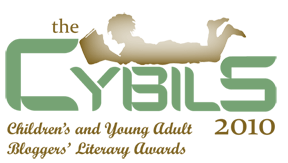 There are several titles that have been nominated in the Cybils Middle Grade category that I've also heard a lot of Newbery buzz for (whatever that means). Regardless, I would not be surprised to see any of these titles on the Newbery award list for 2011, although as you'll see from my reviews below, I'm not sure how much kid appeal some of them have (which is one thing that differentiates the Cybils from the sometimes more literary and less approachable distinctions of other awards):
MOCKINGBIRD by Kathryn Erskine

Mockingbird is the kind of book that I think adults want children to love, but I don't know if children will love it. My 12-year-old daughter is an avid reader (and like me, an avid audiobook listener as well), so I told her to listen. She said that it sounded sad, so she wouldn't even try it. I think that she would have liked it, and I don't think it's sad in the telling, but I do think that it's more likely to appeal to adults or perhaps older teens who are looking for a more cerebral story.
If someone is touched by Asperger's Syndrome by knowing a classmate, a friend, or a sibling affected by it, I definitely think it would appeal to that kind of reader. I am not personally affected, but am so glad that I read it, hearing Caitlin's voice so clearly.
I definitely liked this book. It's a beautiful story — dramatic, thoughtful, and even funny at times, but I wonder how high the "kid appeal" really is.
If you are an adult reader, and you enjoyed this book, go read Emma Donoghue's Room: A Novel (linked to my review), or vice-versa. Someone who loved should read this book.
AUDIO NOTES: This was an excellent narration. It's in Caitlin's POV, so it would be hard to make it authentic, but Angela Rogers did it. A great listen!
OUT OF MY MIND by Sharon Draper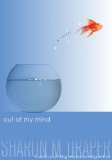 For me Out of My Mind, a similar novel from a person's point of view who has a disability, drove the theme of understanding home in a stronger way and with a voice that would probably be more appealing and understandable to 10 – 13 year old readers. From a superficial standpoint, look at the two covers.
Eleven-year-old Melody is in a wheelchair and she cannot speak; therefore, people have always assumed that she is mentally retarded, although the opposite is true. She has a photographic memory, so her knowledge base is vast. When she is finally given the gift of language through the intervention of her caregiver and a school worker and can express herself, her intelligence is revealed.
I loved Melody's voice and her courage, and her first-hand experience of how difficult it is to be different in middle school. Because the whole story is told "out of her mind," it is very readable (and a little humorous), and didn't feel heavy, though a sympathetic and merciful reader will feel sad for Melody, especially when she experiences a big disappointment — as my 12-year-old daughter did — much more so than her tough mom. For me, because I had related to her so much, instead of focusing on the disappointment, I rejoiced with her in her triumphs, and the trial seemed not something that was necessarily a result of her disability, but rather typical middle school posturing.
For expanding awareness in a way that is completely age-appropriate (yet compelling to this adult reader), I've added this to our 5 Star Reads list.
ONE CRAZY SUMMER by Rita Williams-Garcia.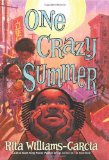 One Crazy Summer is the book that I've heard the most buzz about. And as I've mentioned, once a book is hyped, it takes a lot to live up to it. I liked the characters: 11-year-old Delphine who looks out for her younger sisters, is smart and sensible and mature beyond her years. Her little sisters Fern and Vonetta sort of lump together, since the story focuses on Delphine, but their relationship is genuine — not picture perfect (and thus unrealistic), but admirable nonetheless.
The story is set in the late 60's in Oakland, California. The sisters are put on an airplane from Brooklyn to visit their poet mother, from whom they've been estranged (and who doesn't really want to see them now). When the girls get there, they don't get any mothering, although they do get to know her a little bit more, as they become involved in a Black Panther protest.
Seems a bit heavy for even an older middle grade reader, right? The tone is not heavy. Heavy issues like disability, race, and political injustice as told through a child's eyes seem more matter-of-fact and less shocking. Any of these books might be good reading for an adult interested in these areas (I especially recommend the first two), but you would have to put it in the hands of the right kid for it to be fully appreciated and understood.
This is probably the book that I've heard the most buzz about, but I liked it least of any on this list. I listened to this as an audiobook as well. The telling was good, but I'm not sure that it added or subtracted anything from my overall impression. I did enjoy the story, but it's one that I'm just going to have to agree to disagree as far as the buzz.
Countdown by Deborah Wiles and Turtle in Paradise by Jennifer Holm are two more historical fiction novels nominated for the Cybils and buzzed for the Newbery award, but I haven't gotten my hands on a copy of either yet.
This is tagged 5 Star Reads, because I've added Out of My Mind to our 5 Star Reads list.
Jennifer Donovan wishes she had more time to read and then more motivation to sit down and write the reviews. Nonetheless she's enjoying her judging gig, even if her reviewing and blogging at Snapshot has suffered.