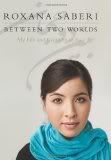 I have lived in the United States all my life. Other than a trip to Puerto Rico, I have never left the U.S. mainland. I would like to visit other parts of the world (if I can get over my claustrophobic fear of flying over the ocean), but for now, I rely on books as a way to explore other countries and cultures. Roxana Saberi didn't rely on books: she decided to write one. So, Roxana left the United States to live as a journalist in Iran, her father's native country. Roxana lived in Iran for several years. She spent the early years as a reporter, and then used her time to gather information for a book about Iran. Roxana loved living in Iran, and she wanted to give a better picture of the country to the world.
Unfortunately for Roxana, the Iranian government did not trust her motives. On the morning of January 31, 2009, Roxana was taken from her home and secretly detained in Iran's notorious Evin prison. For several days, she was held in solitary confinement and interrogated about her activities in Iran. Very quickly, Roxana realized that she was being held as a spy, and she had nowhere to turn.
In Between Two Worlds: My Life and Captivity in Iran
, Roxana recounts the months she spent in Evin prison, including her sham trial. It is a moving and very personal story. Roxana wavered between truth and freedom. Should she put others at risk if it meant her own release? Should she hold to the truth and spend years in prison, or possibly face death? Roxana describes her emotions, her struggles, her relationships with other prisoners, and information about the Iranian people and regime in a way that is gripping and eye-opening. Between Two Worlds: My Life and Captivity in Iran
is a fascinating story.
For someone who has always enjoyed freedom, Roxana's story is a difficult one to comprehend. Although I know the United States is not without its own problems, I am thankful for the rights that we have. I am also thankful to know of Roxana's story. It is not an isolated incident, and I believe it is important for all of us to be aware of how blessed we are and to realize how many people in the world do not enjoy the same freedoms we do. Thankfully, Roxana was released from Evin prison, and she has shared her story. Be sure to pick up a copy of Between Two Worlds: My Life and Captivity in Iran
and read her story for yourself.
Lauren is a wife, mother of two, and avid reader. She thanks Harper Collins for providing the review copy of this book. Lauren blogs at Baseballs and Bows.