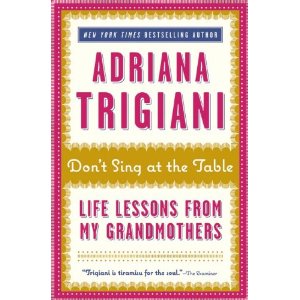 I've never read any of Adriana Trigiani's fiction, but I've heard that she writes lovely novels. However, after reading her memoir Don't Sing at the Table: Life Lessons from My Grandmothers, a sort of tribute to and history of her grandmothers, I feel a kinship with her.
Trigiani shares stories of Lucy's and Viola's years as young wives in the 1940s, their uncharacteristic careers, and lessons that they taught Adriana by their examples. The chapters alternate from one grandmother to the other, and are divided into chapters which cover such topics as work, security, finances, beauty, marriage, and motherhood.
Trigiani's respect of her grandmothers is obvious. They are basically ordinary women, but the way she writes about them prove that we can all be extraordinary through the eyes of those who love us.
I couldn't help but think of my own grandmothers, Opal "Mammaw," who died shortly I got married, and Evelyn "Mimi," who just celebrated her 90th birthday this summer. They are both definitely women I admire. Their personalities are so different, but they both lived through the Depression and World War II, and were career women (both schoolteachers). Especially being able to have the love and support of Mimi as I am a wife and mother myself has been incredible. Her thinking isn't always clear anymore, but I know that she loves me, and what's interesting is that even though she might be hazy on something I just told her, she remembers the 30's, and 40's, and 60's like they were yesterday.
If you enjoy the 1940's, appreciate the role of special women in your life, or love Adriana Trigiani's fiction, I know you'll love this book.
Please leave a comment if you'd like to win a copy of Don't Sing at the Table: Life Lessons from My Grandmothers (U.S. shipping addresses only). We'll announce the winner on 11/24.
Find out more at the Facebook Fan page for the book and I'll be mentioning other blog tour stops @5M4B on Twitter.
The winner of Solid is #15, Holly.
Check out our current giveaways. Subscribe to our feed. Follow us @5M4B on Twitter.

Jennifer Donovan frequently tells her own children not to sing at the table. Learn her other parenting methods by reading her blog Snapshot.