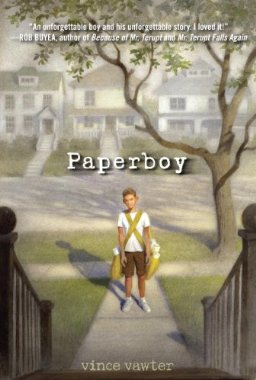 A strong setting takes a run of the mill novel and raises it up. This novel is aptly titled, because in reading it, one truly gets what it's like to be a Paperboy. The boy (unnamed throughout most of the novel) is taking over his friend's paper route while he's away for the summer, so as he learns the ropes, so does the reader. However, this paperboy has to struggle with something that others probably do not — his stutter. So talking to the customers and asking for payment is a challenge.
However, at 11, he's at the time in his life when he's going from being a little boy to entering into adolescence which brings more awkwardness, but also more determination and pride. He already knows that he's one of the best baseball players around, but he wants to overcome the barriers that stuttering has put in his way.
The other strong setting is the place — 1959 Memphis. That means that while his parents go out to dinner parties, he is cared for by his African American housekeeper/nanny Mam (it seems as if 50's housewives did a lot of socializing, but perhaps I'm wrong). Mam gives him confidence. A customer on his route who takes the time to talk, listen, and ask questions also helps him figure out who he wants to be and how he might get there.
The novel is great on so many levels — a great cover, a great premise, lots of heart — that by the time I got to the end, I forgot the bang that started it all. The first sentence:
I'm typing about the stabbing for a good reason. I can't talk.
Without stuttering.
What a hook! One can't forget that, but the story diverged from that event immediately, only coming back around to it in the end.
CONTENT NOTE:  Paperboy is a book for older middle grade readers, at least 5th and up. There is some swearing. For example, he is practicing he's "p's" right at the beginning of the novel, and says "pitch" as he tosses the newspaper, but a grouchy woman overhears him, thinking he was using a "b." There are also some mature plot elements such as drunkenness, and abuse (which might go over the head of a younger reader), and some violence.
That said, for the right audience, Vince Vawter has written a wonderful book. I wouldn't give it to my 9-year-old now, but I hope he'll read it in a few years.