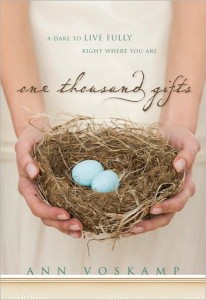 You can't be a Christian mom blogger or anyone who is familiar with any Christian mom bloggers online, and not know of Ann Voskamp. Or maybe you aren't familiar with her online, but you've certainly heard someone sing praises — or maybe express reservations — about her book One Thousand Gifts: A Dare to Live Fully Right Where You Are.
I was sent an email last week asking if I wanted to do a last minute Mother's Day review and/or giveaway of the book, and I knew I wanted to. I bought the book on my Kindle a while ago, but had never gotten around to reading it, so I decided that I'd try to get through some of it, so I could do some sort of review as well.
Well.
I'm glad I finally got around to reading it. I am halfway through it and loving it. I love her poetic style of writing most of all and a close second to that is her total honesty with herself and her God. She's had reasons to doubt His goodness, she knows people who have reasons to doubt His goodness, and yet she clings to Him and even seeks to know and understand Him more fully. For her, that fullness means digging deep and exploring any areas where she might not be fully committed or fully trusting of God and His plan.
This brings mixed feelings to someone like me, someone who does not doubt and just accepts things at face value. I understand that I have the gift of faith. I easily can look to God's sovereignty and trust that He will use my circumstances for my ultimate good, even if — and honestly, especially when — there is pain and/or suffering involved. But that seems so pat and easy. Does that mean I'm not as deep as others who want to really understand, to really prove, and really be sure that they are embracing everything at their core? I sometimes wish I had the faith to doubt or question or explore, and so reading the honest sojourn of another believer helps me see that or experience it in a second-hand way.
As soon as I started reading it, I wanted to buy a copy for a friend of mine. She's a big reader, so I didn't buy the book, but printed out a pretty picture of it and said, "I want to give this to you for your birthday if you don't already have it." She did have it, but like me, hadn't read it yet, so I told her I had another book in mind and encouraged her to read her copy.
So, with Mother's Day around the corner, you may think of those who have helped you to be the kind of mother you are. Perhaps it's a good friend or your own mother or other relative. Giving someone a book like this — a book by a mother and with the joys and pains of motherhood at the very root of the story — will be a way to help her go deeper in her own mothering experience, or to thank her for what she's meant to you. Or during this special month, you can choose to give it to yourself.
This giveaway of One Thousand Gifts is open to U.S. and Canadian residents. Please leave a comment telling me what you liked about the book if you have read it, and who you would want to gift a copy to. If you haven't read it, tell me you'd like to! The winner will be announced on May 22. The giveaway is closed.
Check out our current giveaways. Subscribe to our feed. Follow us @5M4B on Twitter or on Facebook.