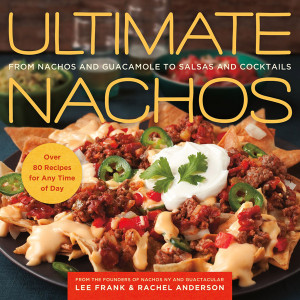 I love snack foods. I am one of the people who frequently goes to a restaurant and orders appetizers for dinner. What can I say, tapas is my thing. And Ultimate Nachos: From Nachos and Guacamole to Salsas and Cocktails by Lee Frank and Rachel Anderson only feeds my obsession. Frank and Anderson are behind Nachos NY, a blog dedicated to finding the best nachos in New York and more.
The book takes everything you think you know about nachos and turns it on its head. I abhor the "pasteurized cheese food product" that is placed upon chips at ballparks and more and then called nachos, but Anderson and Frank take it well beyond that. The book is a cookbook with recipes that don't just include your traditional plate of chips piled high with all the fixings. The nacho has officially been elevated.
Ultimate Nachos includes 84 recipes, along with the history of the nacho and what does and does not get included in nachos. Bonus points for them in that flavored chips aren't allowed. After all, "you're spending time to craft a delicious plate of nachos; you don't need to gunk it up with powdered cheese concoctions." That sense of wry humor continues throughout the cookbook, making it as much fun to read as it is to drool over.
The provide instructions on everything from how to make tortilla chips (although I'm still going to bake mine instead of frying them, sorry!) to crema to any type of salsa or guacamole you could imagine, and then some. Each recipe is prefaced with a short paragraph providing information on its origin, which I love to read. They also share whether they are gluten free, vegetarian, and/or vegan, along with how many the recipe serves.
So yes, there is a lot of what you'd expect with some partially traditional nachos, but there is more than just buffalo chicken nachos or Irish nachos to make the entries unique. There are breakfast nachos (which are delicious, by the way) and dessert nachos. Yes, I said dessert nachos. You can bet that I will be serving some choco nachos at my next party, as well as the peach-habanero margarita. The ideas in the cookbook are sensational and so much fun, and I can't wait to try out more of them – many of which were winners in Frank and Anderson's Guactacular events.
While the recipes are a little out there, this is a book that is designed to be helpful for both novice cooks and more experienced chefs. It contains easy to read instructions, and there are helpful hints on how to do all sorts of tasks needed for the recipes from roasting garlic to explaining reductions. The entire book is approachable and the fascinating photos of each dish – a favorite of mine when it comes to cookbooks – make it hard to choose which recipe to try first.
Written by Michelle who did in fact eat nachos for dinner last night. See what she's cooking up on her blog Honest & Truly! or follow along with her on Twitter where she is also @HonestAndTruly.