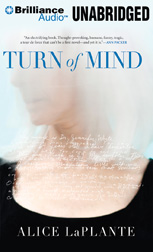 Jennifer White is 64-years-old, a trained surgeon, a Chicagoan, a widow, mother of two, and a victim of dementia.
Her story is told in her own voice in Alice LaPlante's fantastic novel Turn of Mind. She is generally aware of her lack of memory and sound mind, but she frequently refers to the notebook that she and her loved ones keep to help her remember day to day events. She also posts signs in her kitchen that remind her of her children's names, who she is, and who this woman is who lives with her (Magdalena, her caretaker). Her feelings as expressed through her thoughts, daily experiences, and sessions in her Alzheimer's support group show her frustrations and her daily fluctuations in memory and ability.
Dr. White becomes a person of interest when her neighbor and best friend Amanda is found dead. But because of her advancing dementia, she doesn't remember anything about it. We, the readers, don't know the facts either.
Through her memories of the past we come to know more of her relationship with Amanda, with her kids, with her husband, and even her parents. Small details are revealed bit by bit and come together in the end to a satisfying conclusion.
Interesting angle and compelling plot aside, what makes this story sing is that it covers so many angles so well: the deterioration of a mind diseased by Alzheimer's, the dynamic of the family relationship (mother and son, mother and daughter, a marriage, a friendship elevated to family status), a who-dunnit murder.
AUDIO NOTES — 5 STAR AUDIO
I was intrigued by the premise of this book from the get-go, but literally from the opening sentence read by Jean Reed Bahle, I was hooked. Bahle voices the main character Dr. Jennifer White impeccably, also distinguishing between the other characters effectively.
I know I would have liked this book if I had read it (as a book), but because I listened to the audiobook, I truly loved it. I don't know if reading the book would have impacted me as much (probably, but I can't say for sure), but the audio definitely makes this a 5 Star Read. Listening put me right with Jennifer White, as the book is written in sort of a muddled recounting of both her present activities and her memories of the past, from her own perspective as one suffering from dementia at only 64 years old.
This book has gotten quite a lot of buzz. If you've tried to read it as a book, but perhaps didn't like the format, try the audio. If you liked the book, I encourage you to listen to the audio to experience it in a whole new way.
Listen to a sample of this fabulous reading at the Brilliance Audio page.
Jennifer Donovan is a confirmed audiophile. She enjoys the ability to "read" in her ears while driving or doing household chores. She blogs at Snapshot about other things she likes.