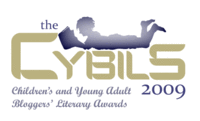 While many of us were celebrating Valentine's Day today by showering our loved ones with candies, cards and kisses (real and chocolate varieties!), the book blogging community was also busy showering twelve children's, middle grade, and YA books with some Cybils love. Yuppers- the 2009 Cybils winners were announced, which I personally take as a motivation to update our library to-look-for list immediately. I have a couple of favorites on the winners' lists, but I'll surely be looking up the others for future reading with my kids!
I'm happy to say that Jennifer and I both had the immense honor of serving as round two judges, in the Middle Grade/Young Adult Nonfiction and Fiction Picture Book categories, respectively. I am over the moon with the winner selected for my category, and I can say with absolute conviction that this is a beautiful picture book that will be enjoyed for years and years to come.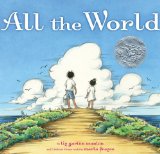 All the World, written beautifully by Liz Garton Scanlon, and illustrated magnificently by Marla Frazee blew me away on my very first read through with my children. I believe it has the whole package: gorgeous and distinctive illustrations that support and expand the story, a text that flows and uses words poetically with bits of alliteration, rhyme and rhythm, and a lovely story with a subtle "message" that is wonderfully universal, but not shoved down the reader's throat. I'm certainly not alone, since this also was awarded a 2010 Caldecott Honor, and has been the subject of many praising posts across the blogosphere. It also gets the top honor our own site can give- a 5 Star Reads label!
I definitely encourage you to go check out the winners, as well as the finalists, which were selected by the diligent round one panelists, who read through hundreds of books to present the best of the best. As a lover of children's literature, I'm happy to share the Cybils love with you, and to offer huge congratulations to the amazing authors and illustrators who received this wonderful honor as a Valentine's day treat.
Dawn's library list is never ending, like most lists in her life. Blogging at my thoughts exactly is one item on those lists that is a happy task to attend to.