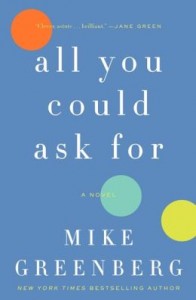 When I heard that ESPN radio host Mike Greenberg of "Mike and Mike in the Morning" (a radio program I regularly listen to here in Chicago) had written not just a book and not just a novel but a novel about women, I couldn't resist. I highly respect Mike Greenberg, a fellow Northwestern University alum who isn't a meathead yammering on about sports on the radio but has insightful observations and wit to back him up rather than simply being the loudest.
That said, I didn't expect a whole lot from All You Could Ask For when I picked it up. Long before I finished it, I was sold. I had tears streaming down my cheeks as I read about the three women in the book – Samantha, Brooke, and Kathryn. This is the first book I've ever read where my first instinct upon finishing the book was to find a way to contact the author to thank him for having written the book and tell him how much I appreciated having had the chance to read his book. Given how many books I've read over the course of my life, that's saying a lot. A whole lot.
All You Could Ask For didn't start off quite so promising for me. Each short chapter featured a different woman as a protagonist telling her story at that point in time. There was no apparent connection among them, and I was afraid I wasn't going to be able to remember the names of each of the characters, primarily because the name was at the start of the chapter but then never mentioned again within the chapter as the women told a monologue story in first person, not interacting with anyone who would call her by name.
Silly me. There were only three women, and their personalities were so strong and their stories were so distinctive that I had a strong handle on who was who by the end of the second go-round of chapters starring each protagonist. I didn't adore and identify with each of the women in quite the same way, and Brooke still frustrates me, though I put the book down several days ago now.
Brooke is a happily married mom of two daughters living a picture perfect life with a husband who adores her (and vice versa) who travels frequently for work. She plays tennis with her friends while her children are at school, and she's decided to give her husband naked photos of herself for his 40th birthday present thanks to one of those friends. Her biggest problem is that her ass isn't quite as great as it was in her 20s.
Samantha is on the opposite end of the spectrum. She's honeymooning in Hawaii with her husband of two days who just won the race for lieutenant governor of California when she accidentally on purpose gets into the email on his laptop and discovers a naked photo of a woman in his email (not Brooke, which was of course my first thought). She immediately leaves the hotel – and her new husband – and throws herself into training for the Ironman triathalon to get over his betrayal.
Kathryn, on the other hand, has never been married. She almost was, twenty years ago, but her boyfriend dumped her for another woman, and she's never let go of the hurt and pain from that moment. She has instead pushed her way to the top of Wall Street, showing no weakness anywhere along the way. The crazy part? Her boss and CEO of the company she works for is the man who dumped her all those years ago.
So yes, the women do find common ground and meet. They all find ways to help heal each other in a myriad of ways, and it's a beautiful story filled with strong women facing adversity and learning that they can let go and lean on each other. On the other side of life is a happiness and life they never dreamed of, though they each have to take their own path to get there.
I feel like I can't tell you any more about the book for fear I'll give away too much and the book will lose some of its magic for you, but if you are going to read any book this year, no matter what stage of life you're in, this is the book to read. Trust me. It's so good that I made it one of our 5-Star Reads.
One of you has the opportunity to win your own copy. Just leave a comment below. We'll announce the winner in our April 17 giveaway column. The giveaway is closed.
Check out our current giveaways. Subscribe to our feed. Follow us @5M4B on Twitter or on Facebook.
Michelle has girlfriends in her life who would stand by her no matter what, and she's beyond grateful that she has them now and knows it. Friends and food can fix just about everything in life. Michelle writes about both – and more – on her blog Honest & Truly! or you can follow along with her on Twitter where she is also @HonestAndTruly.