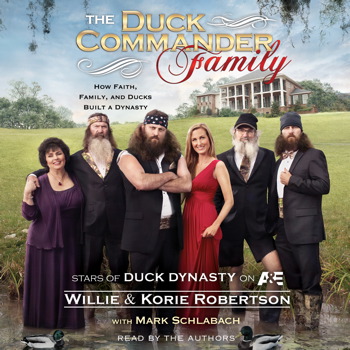 My family and I were sort of late to the whole Duck Dynasty party. I remember seeing a commercial or two, and I thought that it was one of those shows where they exploited the "dumb hillbillies," making them the subject of ridicule.
But then I watched it and realized that they were totally in on the joke. And that it wasn't even really a joke. The Robertson clan are fun-loving, unfiltered people, and that's what we see. There aren't many shows that my whole family — from my husband to my teen daughter to my school-aged son to me — enjoy watching together equally well, but this is one of them.
Sometimes books that are written by those who are already in the media (on reality TV or blog authors come to mind), end up rehashing what we have already seen or read. One thing that impressed me about The Duck Commander Family: How Faith, Family, and Ducks Built a Dynasty is that the information is new. You truly get behind-the-scenes info about how the reality show came to be, the ups and downs of the business, as well as the early lives of the Robertson family and Korie's family.
They also share more about the part faith plays in their lives, and try to encourage other believers. Each chapter starts with a scripture quote or two, and is related to a certain area in their life, such as child-rearing, marriage, business growth or whatever. Each chapter ends with a recipe.
I've only started watching Duck Dynasty this year (taking in the new and old episodes), but after listening to this book, I have a lot more respect for them. Both Korie and Willie are smart business-people, and equally wise parents.
The Duck Commander Family would be a great book to take along on a road trip to listen to with the whole family.
NOTES ON THE AUDIOBOOK:
It's read by Willie and Korie and that makes it even more dear. The recipes might be better in a printed book, but the way they share it is actually similar to how you'd tell a friend a favorite recipe as you invite her to jot it down. They are simple, and I copied down some while I was listening with no trouble. I enjoyed the audio so much that missing out on seeing 10 recipes in writing in no way makes me wish I had the hard copy of the book.
You can listen to a sample at the Simon & Schuster audio page.