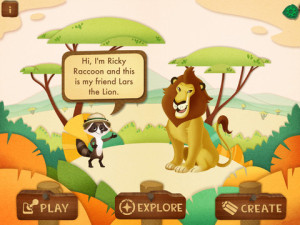 Did you know the National Wildlife Federation has a great learning app for iPad? Neither did I! The first in the series is Ranger Rick Jr. Appventures Lions. Produced by the same people who put out Ranger Rick magazines this app lets adventurous kids follow Ricky Racoon and his friends as they learn all about lions.
The app is divided into three categories Explore, Play and Create. This educational and fun app guides young adventures (age 4-7) through a series of animal games, videos, stories, puzzles, jokes and more including
·         
Photo Safari
 – a game that asks children to take photos of all the lions in Lars' pride. (The real challenge is that kids need to get up and move—with their iPads—to find them all!)
·         
Animal Piano
 – an activity that lets children make music and play songs, using the sounds made by lions, elephants, and baboons.
·         
Animal Builder
 – a drawing game that has children mix and match body parts to create both realistic and silly animals.
With lots of bright, colourful graphics and an engaging cast of characters this app is sure to delight. And mom and dad will

 learn a few new animal facts too!
Just in time for Earth Day we are giving away codes for this app for iPad to 4 lucky readers. Leave a comment and tell us do you do anything to celebrate Earth Day?
Check out our current giveaways. Subscribe to our feed. Follow us @5M4B on Twitter or on Facebook.