Editor's Note: I was charmed by the middle grade novel This Journal Belongs to Ratchet, the story of an 11-year-old girl whose nickname Ratchet accurately indicates her familiarity with tools. In this guest post, author Nancy Cavanaugh shares the writing tools she can't be without: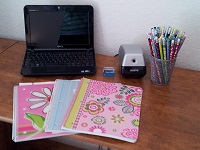 Pencils – Yep, in this modern age of technology in which some authors write entire manuscripts on their phones, my number one writing tool is a pencil. I absolutely LOVE writing in pencil! Now, not just any pencil will do. I need REAL wood – not that simulated plastic-like wood that those yellow #2 school pencils are made of and definitely not those mechanical pencils with the thin, scratchy lead – those actually send shivers up my spine. I need REAL wood – and fun, funky colors are even better.
A Good Eraser – I love pencils because I love to be able to erase. "Erase" is the key here – I don't want black streaks and smudges. I want an eraser that erases so well you'd never know I used it. Oh, and it has to be on the end of my pencil. I want to be able to flip my pencil over and use it. I don't want to have to search for it every time I make a mistake.
A Super Sharp Pencil Sharpener – Electric is best, but some of the plastic handheld ones will do. The important thing here is something that will give me a super sharp point.
A Spiral Notebook – When I begin a new story, I jot down notes in a spiral notebook. I choose a notebook that fits who my main character will be.
A computer – As old fashioned as I sound, I need my computer and couldn't write without it. It makes all my work so much faster and easier.