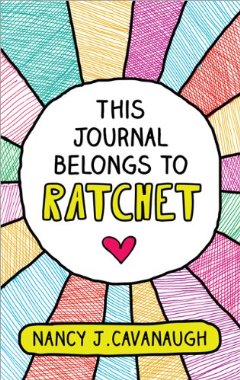 Eleven-year-old Ratchet (Rachel, but no one calls her that) wants her life to change, but with her Goodwill wardrobe, unstylish hair, and hands covered with grease from helping her father fix the cars that litter their driveway, it's unlikely. The neighborhood kids make fun of her and her father, who repairs cars and fixes up houses to make enough money to pursue his passion — environmental awareness and change.
Ratchet keeps a journal with all her homeschool writing assignments, and it's this journal that tells the story, through her descriptive essays, poems, situational scenes and quotes. Early on, she writes a proposal for a project:
Project Description: Turn my old, recycled, freakish, friendless, homeschooled, motherless life into something new.
Make a friend.
Be more like Mom
Outcome: To be a girl who fits in — hopefully one with a friend.
Her quest to be more like her mother, who died, leads her to try to find out more about her. Her dad is reluctant to answer her questions, so Ratchet begins to search for clues to her past, but what she finds is a little confusing. Even though her dad is still up to his embarrassing antics, appealing to the City Council to keep Moss Tree Park open, confirming everyone's opinion that he's a lunatic, she tries to deal with her disappointment.
Helping him with a class at the community center teaching some boys how to build go-karts ends up not only bringing them together, but maybe helping her be a girl who fits in.
This Journal Belongs to Ratchet by Nancy Cavanaugh is a touching story right on the perfect level of middle-grade readers. I think that boys and girls will be entertained and inspired by this novel.