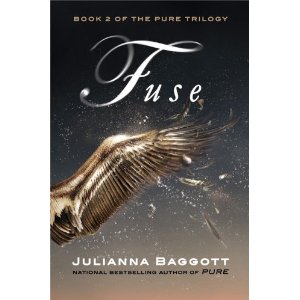 My high school daughter and I both read and loved the first book, Pure. (linked to my full review).
I say that in spite of the fact that in general dystopian fiction is leaving me cold these days. I've loved it for the last 5 years or so, but when I've picked up other recent releases, they seem unoriginal.
However, the world that Juliana Baggott created in Pure was definitely original. Her characters and her world stunned me.
In addition to the dystopian fad, there are an abundance of trilogies, especially in YA literature. And in the trilogy, the 2nd book is often the weakest, serving to barely move the plot forward, or leaving the reader in dire straights with an excruciating cliffhanger.
I can honestly say that Fuse is as richly detailed and plotted as the first was. Characters' stories are advanced, more information and understanding is given about their motives and situations, and new plots are revealed.
The ending left me wanting for more, looking forward to the concluding installment, but not in an annoying cliffhanger sort of way.
This review is intentionally sparse, not wanting to give away plot points for those of you who might not have read Pure, but if you have and are wondering if the next book lives up to it, it does. If you are not yet familiar with this series, but you like dystopian lit or sci-fi, I can highly recommend that you pick up Pure and Fuse today.
This book is published for the adult market, but features teens and has crossover appeal.