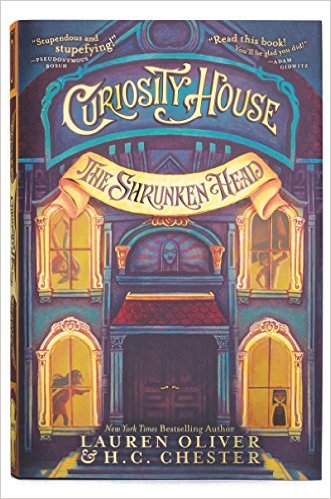 I am a huge fan of quirky, smart middle grade fiction. I figured that Curiosity House: The Shrunken Head would fit the bill, and it did!
I am assuming that Curiosity House will be a series, with this The Shrunken Head, as the first installation. It sets up well the quirky museum/freak show that Mr. Dumfrey runs. The museum is in financial trouble, so when they get a new item, a shrunken head, he is glad it creates a lot of buzz , but unfortunately a lot of mishaps, resulting in injury and even death, surrounds it as well. The deaths are totally age-appropriate and not too scary (age 10 and up, I'd say).
Mr. Dumfrey's 4 kids of extraordinary abilities Pippa, Max, Sam and Thomas –who excel at mind-reading, knife throwing, strength, and shape-shifting — bond together to try to get to the bottom of things and ultimately save the only home they've ever known. Kids will relate to them feeling like misfits, as most kids do at some time or another.
I am reserving my highest recommendation, because I gave it to my 11 year old to read. I was pretty sure he'd like it, but he put it aside. That said, as I read it, I told him I really thought he'd like it, and he should try again, and he seemed open to the idea.
Lauren Oliver is a popular YA author, but I know she's written middle grade fiction as well, and she's right in her element here, along with H.C. Chester (who is somewhat mysterious himself as his author pic shows).
I think that fans of Mysterious Benedict Society, perhaps Lemony Snicket, will enjoy this (or if your child enjoyed this book, have him or her try those). It also reminds me in tone of another recent release, The Keepers, the Box and the Dragonfly.