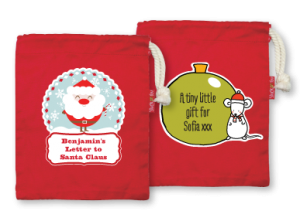 I tend to not make too big a deal about Christmas too early in our household as our kids have November and December birthdays. I try to really differentiate the celebrations so that each of the boys feels special on their birthday. We put up our tree the week before Christmas and really start decorating then. But some traditions just beg to be started sooner in the month. Advent calendars are pulled out and elves are hidden.
And now thanks to Stuck on You we will be writing letters to Santa and leaving in special Christmas Pouch. Then Santa can leave a small note or kids Christmas gift for them in the little pouch. I was of course of absolutely in love with these the minute I saw them. I love personalized items and had them done up with each of the boys' names.
There were several options to choose from when it came to the design on the front, I let my oldest son choose for them both. They turned out very cute and the high quality of the cotton fabric means we will get years of use out of them. The pouches are perfect sized (170 x 200mm) to hold a note or small gift such as a book. They have a great striped fabric on the backside and have  drawstring closures.
Update — it looks like this product may no longer be available, but read on for a giveaway and file the info away for next year.
I wanted to feature items that little book lovers would appreciate and when I found the Designer Collection Book Labels I knew they would be special. There are 9 generously sized book labels per pack. We chose 3 different packs in  the Beach Bus, Jungle Animals and  Robots patterns and they are colourful and cheerful. The label itself is thick and apparently waterproof. My son has labelled all his special Robert Munsch books already and is so proud to show me his name inside the cover.
I also recommend the Christmas address labels but act fast for all Christmas related items as  the elves at Stuck on You need a chance to make them just for you!
Stuck on You is again being extra generous and providing not one but two readers with a $20.00 voucher to order your choice of personalized items. To enter please comment what your favourite  item is at Stuck on You Canada or US. Open to US or Canada. 
They are worth following on Facebook also, they give away lots of cool prizes!
Home Page – http://www.stuckonyou.ca or http://www.stuckonyou.us
Facebook – https://www.facebook.com/stuckonyouofficial
Twitter – www.twitter.com/stuckonyoutweet
Don't miss a thing: Check out our current giveaways. Subscribe to our feed. Follow us @5M4B on Twitter or on Facebook.