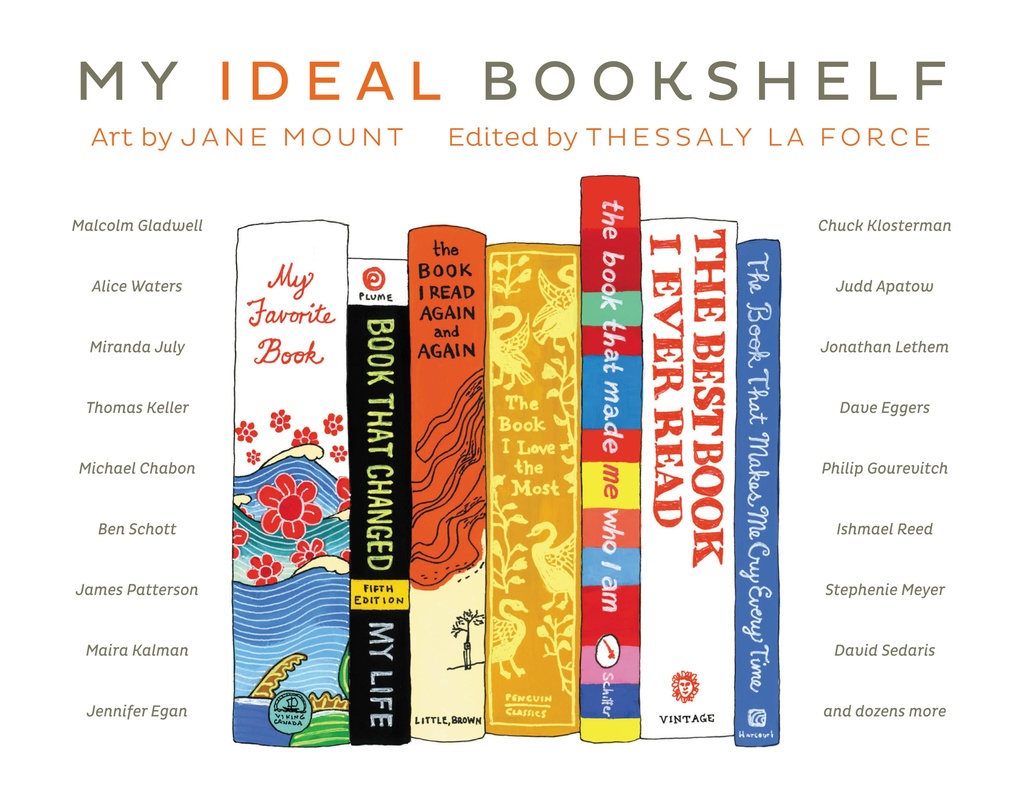 I'm a bona fide bookworm, and so books about books are always appealing to me, so I was definitely interested in reviewing My Ideal Bookshelf, edited by Thessaly La Force and illustrated by Jane Mount.
As a bookworm, I'm not sure I got what I expected from this book, because I would have preferred in-depth discussion about specific titles that might have been familiar to me, but the essays accompanying the bookshelves are fairly broad. However, there are still nuggets of booklove in there, like photographer Todd Hido who said "Spend three hours at the Strand bookstore. Get out there and look" (page 92). I'm a huge fan of that wonderful New York City bookstore, so that statement made my heart leap.
Because of the whole package, this is a book I can recommend, though perhaps not solely for bookworms. My teen daughter is an artist, and so I've become much more aware of art, and this is a BEAUTIFUL book, so it would be perfect as a coffee table book or library feature. The entry from each person appears on one side of the page, and the other side has a full-page drawing of the books (similar to the one featured on the cover).
There are quite a few authors featured, but there are also several artists — from all sorts of fields — chefs and professionals from other careers, so the books that are featured are not for bookworms only. A sampling of contributors:
Judd Apatow
Jennifer Egan
David Sedaris
Chef Hugh Acheson
Nancy Pearl
Artist Marilyn Minter
Interior Designer Tom Delavan
Musician Rosanne Cash
You can enter to win a copy of this book for you or someone on your gift-giving list. Just leave a comment, and we'll select a random commenter. The winner will be announced in our giveaway column on December 5.
The winners of Astray are #13 Anita Yancey and #16 Sharon.
Don't miss a thing: Check out our current giveaways. Subscribe to our feed. Follow us @5M4B on Twitter or on Facebook.
Jennifer's ideal bookshelf would probably contain some novels that made her laugh and cry, a memoir or two, some magical middle grade fiction, and some Bible books. Just don't ask her to choose which ones. She blogs at Snapshot, or used to, anyway.