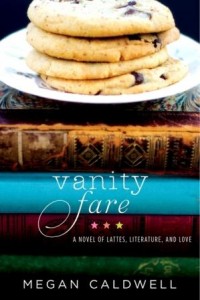 Vanity Fare by Megan Caldwell combines two of my favorite things: cooking and reading. In this light novel, Molly Hagan is in a mess. Her husband has left her months earlier and calls to let her know that he has no job, her insurance is running out at the end of the month, and he won't be able to pay her child support anymore.
As much as the snarky Molly is tempted to simply wallow in a pit of despair, she has her six year old son Aidan to consider. Taking her therapist's advice, she moves one foot forward at a time, sometimes being knocked back and sometimes making progress. She's lucky when a friend calls her with an offer for not just freelance work he occasionally provides her but a larger project with a bakery that will be opening, owned by a celebrity chef.
Watching Molly grow is fun, especially given her attitude toward life that so reflects my own. She has wit and stubbornness that I admire, and her friends are there to boost her up when she needs it. The phone conversations with her best friend Keisha are a hoot, and I love the nod to reality that Molly isn't the only one with issues and that Molly needs to be there for her friends Lissa and Keisha in addition to them being there for her.
As Molly begins the marketing work for the bakery, defining its concept, she struggles with her personal life, too. Simon Baxter, the British celebrity chef, wants to date her, but she has valid reservations. She's intimidated by his business partner Nick Harrison, but he's the one who appreciates her son and who she turns to when she needs help.
The book moves along quickly and is a pleasant read. I appreciate the wit and the depth of characters Megan Caldwell has created. The story is rich with a many dimensions rather than focusing on a single issue as so many books do.
Many books I read begin each chapter with a quote or poem relevant to the book and chapter itself. Vanity Fare uses original language prior to each chapter, the name of a bakery item and the tongue in cheek description of it. It took me a few chapters to figure out what they were and why, and some of the descriptions and puns of the baked goods went over my head – apparently I'm not literary enough to eat at the new bakery – but they got better as the book went on. In a way, they reflected Molly's confidence and abilities in the consulting position that she'd taken on.
Better yet was the end of the book. After so much discussion of luscious croissants and pies and other treats, I was pleased to see that the recipes for many of these were included in the back of the book, along with their tongue in cheek names and descriptions again. I would have loved to see recipes for each of the chapter named baked goods, but the five recipes that Emily Isaac of Trois Pommes Patisserie look delicious. Now that I've finished the book, I can't decide which to try first, Much Ado About Muffins, Tart of Darkness, or Lord of the Tea Rings.
Vanity Fare is described well as "a novel of latters, literature, and love." It is a pleasant novel, a relatively quick read, but there is some surprising depth to it with the multitude of characters and plots and growth of not just Molly but Lissa, Keisha, and Nick, as well.
We have a giveaway copy to send to one U.S. winner. Just leave a comment if you'd like to win! We'll announce the winner on January 16.The giveaway is closed.
Check out our current giveaways. Subscribe to our feed. Follow us @5M4B on Twitter or on Facebook.
In the interest of full disclosure, I receive a copy of this book for review purposes. I received no other compensation, and all opinions remain my own.
Written by Michelle who will definitely be cooking up something special from the recipes in the back of Vanity Faire.   See what else she's cooking up on her blog Honest & Truly, and follow her on Twitter where she is also @HonestAndTruly.