Oh, I love cookbooks. You are likely seeing a few cookbook reviews popping up here around these parts. These are my "pick of the litter" so to speak.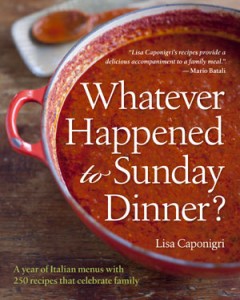 Whatever Happened to Sunday Dinner?
This book just makes me happy, that's what! Written by Lisa Caponigri, it includes 52 menu plans for 52 good Italian multi-course dinners. There are 250 recipes in this book – some complex, yes, but many which are very easy. (Broiled asparagus for example. Easy!) Caponingri introduces the book commiserating with most of us that families just do not spend much time with one another anymore. We're scattered in so many directions that it's hard to find time to be together. Her goal in writing out these meal plans is to encourage families to find that time to be with one another : cooking, eating, talking, laughing on a regular basis. (Perhaps you do not have to do this on Sundays. Maybe Saturday meals would work better for you.) The point is, when you linger over food with others, relationships grow and blossom. Taking time out to work on a (yummy) project can truly draw a family – or any group of people, really! – together.
Speaking of food to be shared with the people I love . . .
Recipes include – pomodori ripieni (tomatoes stuffed with breadcrumbs), castanaccio (chestnut cake), spiedini di manzo (beef on skewers), arista al limone (roast pork with lemon) and insalata del fattore (farmer's salad). If you really wanna be cool with this book, you can type of menus for each week and include all of the Italian names for things which I cannot pronounced for the life of me. However, if I learned to say insalata del fattore, perhaps my boys would enjoy eating it more?
The unique thing about this book, I'd say, is that it has the look and feel of a book that you would sit down to read. It doesn't necessarily look or feel like a cookbook. The cover is not glossy and there are relatively few pictures in it. It is more the type of cookbook that makes you want to sit down and think, imagine, and plan. It definitely is not focused entirely on the food. The focal point is on building relationship with those you love.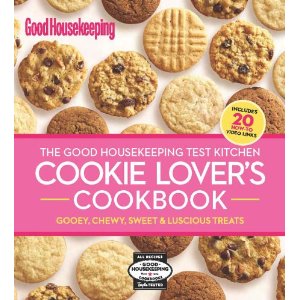 The Good Housekeeping Test Kitchen Cookie Lover's Cookbook
. We have small children at our house. We like small portions for desserts. Cookies are perfect because they are a special treat but are small enough to not give little bodies a sugar overload. (Also, daddy likes to crumble them over his ice cream which he eats after the children have gone to bed.) That said, I had to check out this particular cookbook. (My children were also thrilled to see it arrived on our doorstep.)
Truthfully, I have a cookie cookbook that I love and adore already. (I use it all the time. But I have discovered that it doesn't have as many recipes as I would like inside of it.) Ever on the lookout for additional recipes, I decided to check out this new one. In all honesty, I haven't tried any of the recipes just yet but the review is due so I will tell you what I like of it on sight.
Top 5 Reasons I Already Like This Cookbook:
All recipes are guaranteed as being triple-tested before their inclusion into this book.
There is a full-color "tip" for how to toast nuts. (I've never toasted nuts successfully. I appreciated this little blurb.) There are also 20 "How-To" video links.
There are a LOT of recipes in this book!
This cookbook is a hard-bound three-ring binder, so the pages lie flat. They can also be removed if you like.
All of the recipes are divided by tabs by description.
What categories of cookies are included: "Cookie Jar Favorites" (i.e., your basic chocolate chip), "Easy-to-Shape" (cut-outs), Brownies and Fudgy Bars, Blondies & Bars, Health-Conscious cookies (includes gluten and diary free options), "Fun and Fancy Cookies" (i.e., jam filled, etc.) and Holiday Cookies.
Cookies! Cookies! Cookies! We shall have happy tummies for years and I don't doubt it!
I like being in the kitchen all year-round but Christmas time is an especially fun time to experiment so I'm going to get right on these cookbooks and see what my family likes!
Whatever Happened to Sunday Dinner? and Good Housekeeping Test Kitchen Cookie Lover's Cookbook are available at Barnes & Noble as well in hardcover or NOOK versions.
We are really excited to be able to offer one of you (U.S. only) a copy of BOTH books. These would both make great gift ideas, so keep them in mind, however this gift will be just for you, since we won't be closing this giveaway until January 1. Leave a comment if you'd like to win!
Check out our current giveaways. Subscribe to our feed. Follow us @5M4B on Twitter or on Facebook.
Thank you, Sterling Publishing, for sending these two cookbooks my direction in exchange for my honest opinion.
The winner of our previous giveaways are:
Carrie blogs about all sorts of books: cookbooks, nonfiction, fiction, children's over at Reading to Know.com. And when she's not reading, or spending time with her three children, she can be found in the kitchen!