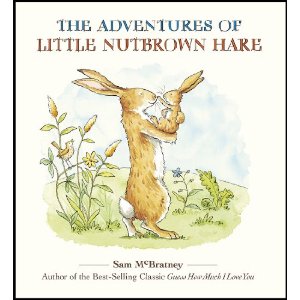 The Adventures of Little Nutbrown Hare
is one and the same from the Guess How Much I Love You? book by author and illustrator Sam McBratney.
McBratney explains that he wanted to write about Little Nutbrown Hare's world and in this collection of four short stories, he does exactly that. He takes us exploring around Little Nutbrown Hare's Hiding Tree, Cloudy Mountain and adventures in the Far Field. Big Nutbrown Hare is present, making sure Little Nutbrown Hare is as safe and secure as always. Lessons about obedience and responsibility are taught in very gentle and subtle ways.
I think my favorite story in the book is "On Cloudy Mountain". Big Nutbrown Hare takes Little Nutbrown Hare exploring on the mountain where they find dandelions to blow on and places to run about. Soon the clouds start rolling in and Big Nutbrown Hare tells the little one that it's time to go home. Little Nutbrown Hare feels his fun is being spoilt, but soon realizes that by not obeying, he is finding himself in quite a danger. Our family has a little mountain near our house that we regularly explore and we have had to learn some lessons of obedience while climbing up it so I particularly connected with this story.
Each story in this collection is a delight and my children have asked for frequent re-reads. McBratney has produced another set of quality illustrations that have successfully brought Big Nutbrown Hare and Little Nutbrown Hare back to life for us to love once again. I highly recommend this one! In fact, I like it so much (as do each of my three children – ages 1, 3 and 6!) that I'm giving this one five stars!
Better still, I am happy to announce that Candlewick Press has offered to give away FOUR copies of The Adventures of Little Nutbrown Hare
to four of you! This contest is open to US Residents only.
Thank you, Candlewick Press, for shooting a copy of this one my direction in exchange for my honest thoughts. Thank you also for your generosity in providing additional copies for our readers here.
Check out our current giveaways. Subscribe to our feed. Follow us @5M4B on Twitter or on Facebook.
Carrie loves reading books to her children and blogs about that frequently over at Reading to Know.