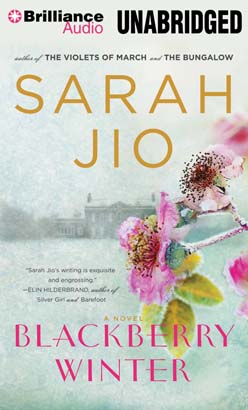 I loved Blackberry Winter by Sarah Jio. It is one of the novels that works well on so many levels, telling the stories of 2 women who lived in Seattle over 70 years apart.
Publisher description:

Seattle, 1933. Single mother Vera Ray kisses her three-year-old son, Daniel, goodnight and departs to work the night-shift at a local hotel. She emerges to discover that a May-Day snow has blanketed the city, and that her son has vanished. Outside, she finds his beloved teddy bear lying face-down on an icy street, the snow covering up any trace of his tracks, or the perpetrator's.
Seattle, 2010. Seattle Herald reporter Claire Aldridge, assigned to cover the May 1 "blackberry winter" storm and its twin [from 1933], learns of the unsolved abduction and vows to unearth the truth. In the process, she finds that she and Vera may be linked in unexpected ways
The women's stories unfold in alternating chapters, and I followed both with baited breath, curious about how they'd end up, and when the truth about Daniel would be uncovered. Each woman is met with challenges and choices, which produces the kind of character-focused drama that I love.
This is one of those sparse reviews, due to the fact that I finished it a couple weeks ago, and also because my overall impression is just "go read it."
AUDIOBOOK NOTES: Reader Tara Sands does a fantastic job, making this book that was a great story and even better listen. Her voice is pleasing and clear with a strong confidence befitting of the two heroines from whose points of view the story is told. When a story is riveting, you can stay up until late in the night reading, but one has to make time to listen to audiobooks. I didn't realize this one was 10 hours long until I was writing up this review. I listened to it in under a week, because I was so enraptured, which says a lot.
Listen to a sample at the Brilliance Audio site, where you can also buy it at a great price.