We (Jennifer and Nancy) are both huge fans of audiobooks ourselves, and we've been introducing our children to them as well. My (Jennifer) children both love to read, and they enjoy audiobooks as another way to enjoy one of their favorite pastimes. But audiobooks serve another purpose in giving kids who don't like to read or who are struggling readers a way to enjoy a book.
For car travel, it's fun to pop in a CD of a book for the whole family to enjoy together. For those who get carsick, an audiobook loaded up on an ipod can entertain them individually.
We are happy to be teaming up with Simon and Schuster Audio to offer FOUR of you the chance to win 3 audiobooks.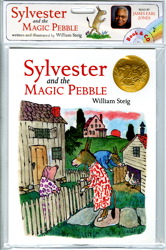 William Steig's classic Sylvester and the Magic Pebble is not only a Caldecott Medal winner, but also one of the 100  Best Books of the Century, as selected by the National Education Association. Yet somehow, I've never read this classic story of be careful what you wish for, as you just might get it.
Sylvester collects pebbles of unusual shapes and sizes, and when he happens across a shiny red, round pebble, he can't pass it up. When Sylvester's wish for the rain to stop comes true, he discovers the pebble's ability to make his wishes come true. But after an encounter with a lion, Sylvester panics and wishes he was a rock. Sylvester  is unable to hold the pebble so he can wish himself back to normal, and his parents search and search for their beloved son. Their reunion is sweet and loving and the perfect ending to the story.
First published in 1969, Sylvester and the Magic Pebble is now available from Simon & Schuster as a paperback and audio CD set, so children can listen and follow along at the same time. And as a bonus, the narrator is none other than James Earl Jones, though the soft, soothing tones he used when reading Sylvester's story took me by surprise.
Four of you (U.S. shipping addresses only) will win a copy of each of these books (reviews to come on the others):

Leave a comment here if you'd like to win. These titles range in ages and subject, but we know that you can find a home for all of them for kids on your gift-giving list. We are going to run this as a short giveaway, announcing the winners on December 17, hoping that you'll receive the audiobooks by December 21. This giveaway is closed.
Check out our current giveaways. Subscribe to our feed. Follow us @5M4B on Twitter or on Facebook.