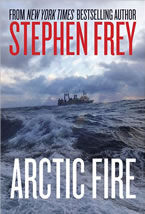 I haven't read a good thriller in a long time. They used to be my favorite genre years ago, but I got away from them for some reason. While Arctic Fire by Stephen W. Frey may not be loved by everyone, I enjoyed the fast-paced book. Eventually.
It took me the first forty or so pages to really get into it. Troy Jensen fighting a bull in Mexico but maybe he's really a spy and now he's on a crab trawler off Alaska and he has a brother Jack who is a Wall Street Trader who feels consistently inadequate. It was confusing to say the least at the start of the book, as it jumped between the two brothers' lives without giving direction as to who the main character was or where the book was going.
But once it got going, it moved quickly. Troy was killed and thrown off the Alaskan crab boat because he ran afoul of the potentially insane head of Red Cell Seven, the secret intelligence group he belongs to. His brother Jack, who never feels he can live up to his little brother, doesn't buy into the story. His father who challenges the electric bills at his home simply accepts Troy's death too easily. And Troy has escaped death too many times to be the only one swept overboard by a rogue wave, as the Jensen's are told.
Jack decides to quit his job and head to Alaska to investigate for himself, and the action truly picks up at that point, with his adoptive father (and Troy's real father) adamantly opposed to Jack getting involved whatsoever. At this point, it does turn into somewhat of a more typical thriller, following many of the expected twists and turns, albeit enjoyably so.
The ending, however, is not so formulaic. Without giving anything away, I'm pretty sure that Frey is hoping for a sequel to Arctic Fire. There are simply too many loose ends, some purposely so, that feel as though there should be another two or ten chapters yet to come in the book, even as you turn the last page. That was frustrating to me, as I imagine it would be to most people. But if there's a sequel, I'll definitely read it.
Arctic Fire has an interesting commentary on the United States, especially given our current political climate. Many of the supposed good guys simply aren't. They have gone past even the motto that the ends justify the means, and it's disturbing to think of how easily this could happen. Neither liberals nor conservatives are painted as having the right way to deal with all the very real terrorists who are out there. I can only hope that we don't truly need a Red Cell Seven and that it's a figment of Frey's imagination in Arctic Fire.