This book is a part of the Simon & Schuster children's audiobook giveaway. Click over to enter to win this and two other titles. Feel free to comment here about this title, but to enter, leave a comment on the audiobook giveaway post.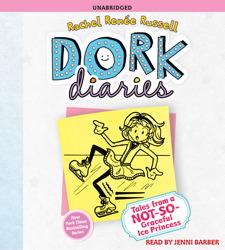 Despite the fact that this is the 5th installment in Rachel Renee Russell's popular Dork Diaries series, Tales from a Not-So-Graceful Ice Princess completely stands alone. You don't need any backstory to know that junior high is a battlefield of insecurity, mean girls, turf wars, and emotions. That's exactly what Nikki Maxwell encounters on a daily basis, not to mention the fallout from pesky little sister Brianna.
I thought I had read/reviewed the first book, but I couldn't find a review, so perhaps I did not. But I was under the impression that the series was a little bratty and annoying. That wasn't my impression of this one at all. I was pretty charmed, actually. Nikki is pretty self-aware: She knows she's a dork (though she's not nearly as much of a dork as she thinks), and she has moments of clarity when she realizes she's sort of self-absorbed (middle school, remember?) and doesn't appreciate her family like she should.
This is the kind of realistic middle grade fiction I like to see. It's fun, funny, relatable, but not disrespectful.
There's a lot going on in Tales from a Not-So-Graceful Ice Princess. Nikki and her friends Zoey and Chloe have decided to compete in the charity Holiday on Ice competition. The problem is that Nikki can't skate — at all. And what's even worse is that the charity they are skating for is very important to her friend — maybe more?? Finally?? Squeeeee — Brandon (in Nik-speak). It's in danger of closing, and Nikki doesn't want to let him down.
The ability to exaggerate and get away with it in middle grade fiction is on big display when their family attends a holiday ballet, and Brianna does maybe the craziest and brattiest thing yet!
This is extra-fun to read/listen to this time of year, because it's set at Christmastime.
This series is very popular with the girls at my son's elementary school, and I think it's most appropriate for 3rd- 6th grade.
NOTES ON THE AUDIOBOOK:
This Simon & Schuster audio version was a lot of fun. You do miss out on the cute drawings that are included in this notebook style book, but I think that Jenni Barber's over-the-top reading makes up for it. She perfectly expressed the drama that is Nikki's life. Every "squeeeee" made me smile, and every "omg" made me roll my eyes a little, but if you've ever hung out with middle school girls, you won't doubt the veracity of that utterance.
Listen to an audio excerpt to see what I mean.