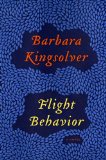 Barbara Kingsolver's new novel opens with flame-haired diminutive Dellarobbia Turnbow leaving her kids with her mother-in-law and climbing the side of the mountain behind her house to commit adultery with a phone repairman, a kid with a cute smile who flatters her and seems to offer release from the marriage and life which seem to trap her. Instead, as she climbs the mountain, she comes to a wide valley and finds in on fire with a flame that doesn't consume nor give off heat, but rises in waves from the dark evergreens. She neglected her glasses from vanity and can't figure out what it is. Filled with a sense of something larger than her own problems, she turns back and goes down, disaster averted.
She doesn't tell anyone about what she saw, nor does she attempt the long steep climb to see it again. But when her father-in-law decides to sell the trees to be clear-cut, she speaks of it in vague terms to her husband. They all go up to look, only to find themselves walking through a river of butterflies. There are millions and millions of butterflies, hanging in clumps off the trees, and as the family stares, dumbfounded, they rise en masse and twirl through the air, sparks of orange light catching the afternoon sun.
Flight Behavior
is set in the Southern Applachian mountains, in a poverty-stricken town, amongst farmers struggling to make it, whose living is threatened by balloon payments coming due, mortgages fallen behind on, sudden changes in weather patterns. The butterflies turn out to be Monarchs, who usually winter in Mexico, but for the purposes of this book have ended up in the Appalachias, after their natural habitat is threatened by excessive rains and landslides. (That last part is true. The part about them going to the Appalachias is fiction) The millions of butterflies naturally attract the attention of the outside world, and scientists, naturalists, groups of student environmentalists, and more begin to arrive.
Flight Behavior
is Kingsolver writing at the top of her form. The story is told from the point of view of Dellarobbia, and we enter into her life–a bright child, orphaned young, with college plans that were frustrated by lack of opportunity, pregnant at 17 and quickly married only to lose the baby, now 10 years later with 2 kids and frustrated and worn down by the daily grind. But as she begins to spend time with scientists, a whole new world opens up before her.
As often in Kingsolver's novels, Christianity plays a large role but real faith is strangely absent. Dellarobbia's mother-in-law, a strong-willed woman who entirely controls the lives of her son and daughter-in-law as well as her husband, is especially prone to spouting Bible verses, yet they don't seem to really touch her heart. However, I loved seeing her character grow and develop, particularly in her relationship with Dellarobbia.
At one point, Dellarobbia is talking to an environmentalist who is trying to get her to reduce her carbon footprint. He makes demands of her–eat out less! turn down the thermostat!–and she stares at him in mystification, as high heat/AC and eating out at restaurants are luxuries she can't afford. Flight Behavior
is brilliant at showing our fractured society and the ideologies and realities that divide us.
Best of all is the writing, the writing, the writing. So many scenes stand out in my mind, as vivid as if I'd been there and witnessed them myself. Kingsolver has done an incredible job with this novel. This is one of our best novelists at her peak. Whether or not you agree with her conclusions, you will enjoy reading this book. In fact, I've given it that rarest of ratings–5 stars.
Elizabeth really enjoys a well-written novel. She would love to see butterflies hanging off the trees like the scenes described in this book. Learn more at her blog Planet Nomad.