Will your children be unwrapping gifts this holiday season to discover new books to enjoy? In addition to the picture books, early readers, or chapter books your young readers will love, don't forget about the fun that activity books can provide. Going beyond just the average word find and crossword puzzle are two new releases that incorporate some of our kids' favorite characters.
If you have had any reading interactions with a young child within the last decade, the chances are pretty high that you already know (and love!) Mo Willems' beloved Pigeon. As he prepares to turn ten in the new year, Pigeon is enjoying a new adventure in the great big book of fun that is Don't Let the Pigeon Finish This Activity Book! Seriously, there are over 200 pages of joy here!
I'm really impressed with the level of intention that went into the creation of this activity book. First off, there's a story line that carries through from beginning to end, and along the way, children have opportunities for play and games that run the gamut from simplistic to more complex. Starting off with easy instructions on how to draw Pigeon himself, the book then offers a wide variety of coloring pages, mazes to navigate, pages that tear out to become board games or art projects, and more. Children are encouraged to play along with the story, and props are provided for them to cut out and create with a little bit of tape, including some finger puppets and, of course, a bus to call their own. The story of the book wraps up in typical Willems fashion, with a bit of absurdity and a lot of laughs.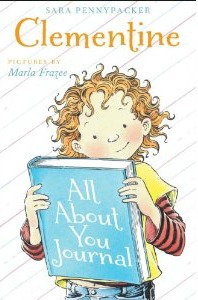 Older readers may find appeal in activity books that encourage writing and drawing to record their own memories and perceptions of the world. With the ever-adorable Clementine as their guide, children will have a blast filling in the pages of the new Clementine All About You Journal by Sara Pennypacker.
Perfect for elementary school aged kids, this book provides places for them to record all the things that make them special and unique, and as readers who enjoy the Clementine books might expect, there is a level of whimsy to the writing prompts that will undoubtedly get kids laughing. Some pages provide open-ended space for writing, while others lead children into writing or drawing activities that call on them to be creative and thoughtful. Interspersed throughout the book are quotes from all five books, along with Marla Frazee's gorgeous black and white illustrations. I happen to be a huge fan of all of Frazee's work, and her depictions of this delightful little girl are as touching and timeless as ever.
As you're looking for unique gifts for the young readers in your life, I encourage you to check out these two beloved characters' new activity book offerings. The fun will continue long after the last bits of wrapping paper have been cleaned up!
Dawn's kids have come to expect a new supply of reading materials every Christmas, and this year is shaping up to be no different than usual. When she's not blogging away at my thoughts exactly over Winter Break, she'll be looking for more shelf space around the house.