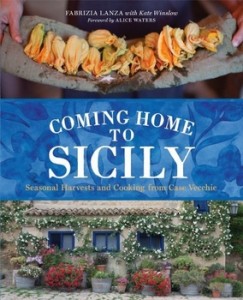 I like to travel except for the hassle of leaving home. I guess you might say I have a love/hate relationship with the idea of exploring the world. On the one hand, I find the idea of traveling to far off places quite magical. Then I look up the cost of airplane tickets and look down at my three small children and think that perhaps now is not the best season to go globe trotting. In theory, I think travel to be a wonderful idea. And when my children all sleep through the night solidly, I might think of traveling more fondly. But for now, we stay close to home.
Coming Home to Sicily
: Seasonal Harvests and Cooking from Case Vecchie follows a new trend in cookbooks. Instead of your traditional hardbound, glossy looking book or spiral-bound-for-ease edition, this particular cookbook looks like it belongs on your living room bookshelf. It just has the look and feel of a book you'd curl up on your sofa to read instead of one that you'd smack down on the kitchen counter. In the Forward to this book, Alice Waters explains of the author that "sees the world around her with the eyes of a historian", blending tradition and art into her cooking. In the Introduction, author Fabrizia Lanza explains she learned how to cook by eating good food.
In Coming Home to Sicily
we are walked through fields, shown fish at markets, wildflowers, work gloves and many pictures of spectacularly good looking food items. You can tell by the feel of the book that the primary purpose of the book is not just in learning how to cook delicious food, but also to learn to love the land in which these particular flavors originated. In other words, this book is about a food experience.
I flipped through the book and read the names and descriptions of recipes aloud to my kids. Some recipes they thought sounded fantastic – (For example: Filled Fig Cookies, or Pasta with Cherry Tomatoes and Sun-Dried Tomatoes) – while others they found less appealing. My seafood loving son sniffed his nose at the idea of Slow Cooked Octopus with Estratto and Wine. (I was actually somewhat surprised as he has mentioned more than once in his past that he would like to try eating octopus at some point. We have a local market that sells them and we check them out each time we go to that store.) He was, however, interested in looking at the picture of the swordfish which was being cut up and which was presented next to the recipe for swordfish steaks.
Although the above sampling of recipes sounds rather out-of-touch and out-of-reach for the majority of Americans, there are plenty of recipes which we would eat in our family. I'm very curious to try the following:
Cherry Peppers Stuffed with Tuna (I actually do not like seafood as a general rule. I will eat smoked salmon if pressed and tuna willingly. If it comes out of a can. Don't judge.)
Pesto with Almonds and Fresh Tomatoes
Tomato sauce recipe (I started experimenting with tomato sauce this past summer. I'm curious to try this recipe!)
Anelletti with Tomato Sauce and Ricotta
Eggplant Roll-Ups
Spaghetti with Wild Greens and Ricotta
Coffee pudding
My kids are pretty good eaters and will eat what is put in front of them. This doesn't always mean that they like the food, but I do like them to try it. Over time they've learned to like many things that on first attempt they declared unlikable. Even though we don't travel widely, I like to widen their palates and this book is fun for me in that respect, particularly. Over the summer I took the kids with me to farm stands and farmer's markets and would allow them to choose our veggies for us. I found that if they made the selections, they were much happier to eat them. Eggplants were on our "learn to like" list but we missed that season (as it occurred locally at any rate). I like finding new recipes to incorporate our local veggies into and so I have my eye on that Eggplant Roll-Ups recipe in particular. I think it'll be a hit, judging by the ingredients list (which includes cheese).
The recipes in this book are likely for the more adventurous. It is a beautiful book and weaves story and tradition in alongside the recipes making for a very fun ride. Furthermore it's a fairly inexpensive ride as you do not have to travel far away from home to taste at least a little bit of Sicily.
Thanks to Sterling Publishing for sending a copy of this book my direction in exchange for my honest thoughts.
Another book you might want to check out for the foodie in your life is A Year With Pies which I am reviewing today over at Reading to Know. Click on the title to be taken to my review of that delicious book!
Carrie blogs about all sorts of book of interest to her over at Reading to Know.