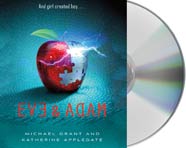 Seventeen-year-old Evening Spiker is hit by a car. She's rushed to the hospital, but when her mom comes to the hospital, she defies the doctors by whisking her off to her own research facility. And despite having a crushed leg, Eve heals quickly. Very quickly. But her mother keeps her there to keep healing, with no one her age to talk to except for Solo, who must be some sort of wonderkind genius. Only with prolonged begging, does her mother let her best friend Aislin visit. Even though her mother spends more time working than parenting, she has seen enough to know that Aislin is a bad influence.
To try to distract her, her mother asks Evening to create the perfect boy using a genetic simulation program her company is developing.
I'm avoiding any further plot description, because it went in some predictable and surprising directions that I enjoyed experiencing as they came, so I'll just say this one is highly recommended.
My fourteen-year-old daughter and I each really enjoyed this one. While not a wholly unique concept — is anything? — the story was intriguing, fast-paced, and original, told with a fair bit of humor. The same reader as the audiobook of The Adoration of Jenna Fox further underscored the similarity (in basic concept only) between these two stories of smart scientist parents willing to use their children as guinea pigs in a desperate effort to save them.
CONTENT:
This story has a futuristic bent that ponders the dilemma about scientific "progress," without the despair of some of the dystopian that is so popular with teens (and adults!). It's also refreshingly free of more mature content such as language and sexual content There may have been a few usages of mild language, but nothing that stood out. The characters are older teenagers, and there is some romance and talk of boy/girl matters (especially in regards to her mother's thoughts on the kind of girl Aislin is as well as some euphomistic anatomical discussion about creating Adam's "boy parts"), but there's no description of actual activity beyond some kissing, nor overly graphic "yearning and burning."
AUDIOBOOK NOTES:
I love books that have chapters featuring alternating POVs. When an audiobook has separate actors for these chapters, it makes it even more powerful. This one does this, switching from Eve's and Solo's POV.
Because of all I've noted above, in addition to a really great reading by Jenna Lamia (one of my all-time favorite YA readers), and Holter Graham, I give this book/audio 5 Stars.