You may be one of the throng who are waiting for 8/24/10 when Mockingjay is released and concludes The Hunger Games trilogy (linked to Dawn's review if you aren't sure what all the hubbub is about). But The Hunger Games isn't the only dystopian YA lit out there. While you are waiting for your copy to arrive, or for your number to come up on the library's waitlist (my YA librarian said that she has 8 copies on order, and there are already almost 60 names on the request list), here's another book with a strong female lead that you might want to consider: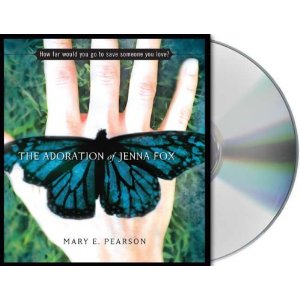 I listened to the audiobook of The Adoration of Jenna Fox a while ago — a long while, and I've been remiss in posting a review, even though I really liked it, and Amanda (age 11) also listened and enjoyed it.
This book is set in an unknown future time. Science's progress has begun to chip away at certain things, and people like Jenna's grandmother are trying to preserve things of old, like heirloom fruits and vegetables. That's a very timely issue for now with people asking themselves those very same questions in relation to the way that food is grown and raised.
Another issue that will stand out to parents and kids today is the adoration of their children (hence the title). Jenna is able to remember her life from the hours and hours and hours of video footage that her doting parents shot of her.
Corollary issues aside, the theme of this novel is medical ethics. How far is too far? Just because science gives us the ability to do something, should we?
This is one of those semi-cryptic reviews (which is maybe why I held off so long in writing it), and that's intentional. The story is best unfolded as the reader discovers the truth along with Jenna.
I believe that this video trailer of the book is word for word from the first pages. It gives a pretty good set-up, and unlike other trailers, since it's just an excerpt from the beginning of the book, it doesn't give anything away.
The Adoration of Jenna Fox is a YA title that will also appeal to adult readers, especially those looking for a suspenseful, futuristic, medical drama.
Audiobook notes: I first listened to this because I loved narrator Jenna Lamia's work in The Chosen One (linked to my review), which is not really dystopian, but runs in that same vein, because something is very very wrong with the society of which Kyra is a part and begins to question.
Jenna Lamia delivers another outstanding understated, yet absolutely riveting performance in The Adoration of Jenna Fox. She manages to convey Jenna's sense of confusion and wonder without going overboard. She's awesome.

Jennifer Donovan adores her children, 11 and 6, but doesn't have millions of photos or hours of video footage to prove it. She occasionally blogs about them at Snapshot.