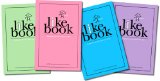 Back in early November, I talked about a new journal-like book called the i like book on 5 Minutes for Mom (linked to my review). The intention of this spiral-bound notebook is to be a place where parents can record daily the little things that they truly like about their children.
While our kids may always know that we love them, do we point out the parts of their personalities that make us smile or the actions that they take that do not put them on the naughty list, but in fact get them bumped up even higher on the nice list? I'm sadly aware of my own parenting style that has me pointing out my children's mistakes perhaps more often than calling attention to the positive parts of their day. With the i like book, parents can not only bring these little things to their children's attention, but the memories will also stay collected as a lovely keepsake of a year's worth of "likes."
In addition to their line of i like books for parents to use with their children, a new version has been created– the i like book for couples. The same idea is at work here, with lines for each partner to record their daily thoughts about the other. I really like the idea in this context, as well, and couples could always use an extra motivation to focus on the positive, right?
With all the hustle and bustle that comes with this time of year, making a new tradition of calling attention to the things you like about your child or your partner seems perfectly timed. The i like book makes this easy and fun! Be sure to visit their site, ilikebook.com, and like their page on Facebook, too!
As part of our Gift Guide Giveaway, the publisher is generously offering 1 copy each of the i like book (green version, for use with child) and the i like book for couples, (U.S. only, please).
This giveaway is now closed.
As a bonus, we also have been given a discount code to share with our 5 Minutes for Books readers. Use the code "kids2010″ when you register on theilikebook.com, and you'll save 40%!

To enter, first "like" the i like book on Facebook, and then leave a comment here.
Entries will be closed on December 3, and we will announce the winners on December 4. Please watch your email and check the site for your name, so that we can collect your shipping information to pass along to the publishers.
Be sure you've entered all the giveaways in our 2010 Gift Guide and Giveaway event.

Check out our current giveaways. Subscribe to our feed. Follow us @5M4B on Twitter.
Dawn's children anxiously await the new books that greet them every Christmas morning. Their holiday tales will be shared at my thoughts exactly.