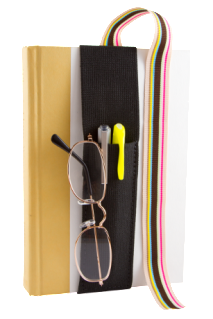 When I am buying gifts for friends and family, I enjoy looking for something that is useful and personal, but also something that is unique. If you have a book-loving friend, the Book Buddy is perfect! The Book Buddy, which is a wonderful tool that serves as a bookmark and a holder for glasses and pens, was designed by Brenda Palmer. As an avid reader, Brenda came up with the Book Buddy as a way to keep up with the items she likes to have handy when she is reading. After trial and error, she developed a product that suited her needs and then realized others would enjoy the benefits as well.
The Book Buddy comes in two versions. The Study Edition is available in three sizes and is designed to hold a couple of pens and a set of glasses. The Travel Edition has an additional pocket and extra-wide profile so you can keep your cell-phone, Mp3 player, or passport handy. What I love most about the Book Buddy is the personal touch. Each Book Buddy has an attached grosgrain, cotton, or satin bookmark. The bookmarks come in variety of colors and patterns. I love the baseball ribbon that is attached to mine (I hope I can keep it away from my son)! Each Book Buddy also comes with instructions on how to best place the elastic band, depending on whether the book is hardback or paperback, and I appreciated the tutorial.
I am really enjoying my Book Buddy, and I think it would make a perfect gift for a friend, family member, teacher, librarian, etc… I think the Book Buddy would be especially useful for Bible study or students who need to mark in textbooks. Be sure to visit the Book Buddy site. I know you will find the right Book Buddy for you and your friends.
If you would like to win a Book Buddy, please leave a comment on this post (U.S. shipping only).
Lauren is a wife, mother of two, and an avid reader. She thanks Book Buddy for providing a sample to review. Lauren blogs at Baseballs and Bows.

Leave a comment here to enter. Only one comment per person, please.
Entries will be closed on December 3, and we will announce the winners on December 4. Please watch your email and check the site for your name, so that we can collect your shipping information to pass along to the publishers.
Be sure you've entered all the giveaways in our 2010 Gift Guide and Giveaway event.

Check out our current giveaways. Subscribe to our feed. Follow us @5M4B on Twitter.
This giveaway is now closed.