My daughter loves art projects. I can give her a box of craft supplies, and she will enjoy it for hours. Unfortunately, I am lacking the creative gene, and I sometimes struggle to provide her the time and opportunity to be artsy. When the Creativity For Kids Diva Puppies
and Create Your Own Enchanted Storybook
arrived at my doorstep, I knew I had two products that would please both mom and daughter.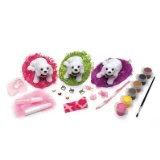 Creativity For Kids Diva Puppies
is a set of three white bobble-head puppies. These puppies can be painted using the included paint, and the the pups can be accessorized using the fabric, sequins, ribbons, bows, and tulle that also come with the kit. This project is targeted to artists ages 6 and up. Since my own daughter is six, I know it is a perfect fit for this age group. The puppies are adorable, and there are plenty of girly add-ons. I especially like that everything is included!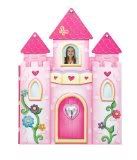 Likewise, the Create Your Own Enchanted Storybook
is another fun project that will thrill young girls and their creatively-challenged moms. The book is shaped like a castle and includes blank, lined pages for an author to craft a story. Each page also includes a space for an illustration. The kit comes with markers, stickers, and rhinestones. Young girls can personalize it even further with their name and photograph. This kit would be perfect for any young author, but as a former teacher, I highly recommend this to any homeschoolers learning about the writing process. This would make a great format for a final draft after a child has worked on rough drafts and editing, and it would be so much fun to create!
If you need a gift for a creative young girl, I recommend Creativity For Kids Diva Puppies
and Create Your Own Enchanted Storybook
. Children can enjoy using the products and moms can enjoy the ease of an "all-in-one" kit.

As part of our Gift Guide Giveaway, you can leave a comment here to win one of each of these products (U.S. only). Only one comment per person, please.
Entries will be closed on December 3, and we will announce the winners on December 4. Please watch your email and check the site for your name, so that we can collect your shipping information to pass along to the publishers.
Be sure you've entered all the giveaways in our 2010 Gift Guide and Giveaway event.

Check out our current giveaways. Subscribe to our feed. Follow us @5M4B on Twitter.
This giveaway is now closed.Lauren is a wife, mother of two, and an avid reader. She blogs at Baseballs and Bows.