With Christmas right around the corner, gift shopping is going full-speed, especially today, "Black Friday," also known as the craziest shopping day all year. If you're like me and terrified to even go within a mile of a shopping plaza today, you can always enjoy shopping online from the comfort of your own couch and not worry about the crowds! In honor of Cyber Black Friday, if you will, Sleeping Bear Press is happy to offer giveaways on two of their new holiday titles.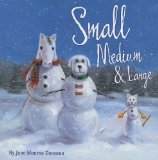 I do love a good wordless picture book and the opportunities for storytelling and observation that one provides. Jane Monroe Donovan's Small, Medium & Large depicts a young girl whose humble letter to Santa results in a three lovely surprises on Christmas morning, in animal form! A cat, a dog and a miniature horse warm this girl's heart and their warmly illustrated adventures need no text for explanation. Children who adore animals will enjoy, and understand, the love shared between the girl and each of her beloved pets. The author's note at the end is interesting to share with children as well, since it introduces the real-life inspirations for the animals!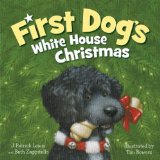 Living near Washington, DC, certainly has its ups and downs, but the beauty of the holiday season is always a wonder to behold. The celebrations get a little doggy-makeover in picture book format with First Dog's White House Christmas by J. Patrick Lewis and Beth Zappitello. As a certain adorable Portuguese water dog lives in the White House, he takes it upon himself to invite his canine pals from around the world to a Christmas Gala being held there. In the pages that follow, Bo plans what he wants to share with his friends about the holiday decorations and celebrations he loves, and when his friends arrive from ten different countries, he also learns about traditions they enjoy in their homelands. This makes for a fun read with a true multicultural experience wrapped in.

As part of our Gift Guide Giveaway, the publisher is generously offering 1 copy each of Small, Medium & Large and First Dog's White House Christmas! (U.S. only, please) . The lucky winner will also receive a copy of one of Sleeping Bear Press's backlist holiday titles, as well.
This giveaway is now closed.
Leave a comment here to enter.
Entries will be closed on December 3, and we will announce the winners on December 4. Please watch your email and check the site for your name, so that we can collect your shipping information to pass along to the publishers.
Be sure you've entered all the giveaways in our 2010 Gift Guide and Giveaway event.

Check out our current giveaways. Subscribe to our feed. Follow us @5M4B on Twitter.
Dawn's children anxiously await the new books that greet them every Christmas morning. Their holiday tales will be shared at my thoughts exactly.