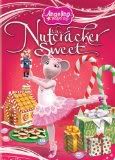 In case you haven't met her before, Angelina is a sweet little British mouse who happens to enjoy ballet. She is imaginative, clever, and feisty. Along with her best friend Alice, Angelina is ready to take the stage (and take on the world), but she always manages to learn some important lessons along the way. In her new DVD, Nutcracker Sweet
, Angelina is excited to perform the Dance of the Sugar Plum Fairy. Unfortunately, Angelina gets a little too much sugar, and her desire for candy canes and fruitcake lead her into trouble. After learning an important lesson, Angelina realizes that sharing with her friends is a lot more fun.
In all, Angelina's Nutcracker Sweet
contains five wholesome and enjoyable episodes. It would make a great stocking stuffer for a young girl. Angelina Ballerina is speficially targeted to 3-7 year olds. Since I got this DVD about a month ago, my six-year-old daughter has enjoyed it many times (and so has her eight-year-old brother, but don't tell anyone). As a mom, I appreciate that my kids can watch a program without the mature themes and bad attitudes that are becoming more prevalent in so many kids' shows. I highly recommend Nutcracker Sweet
for any of you who are Angelina fans, or for those of you who haven't been introduced to her yet!
We have a copy of Angelina's Nutcracker Sweet DVD
to give away (U.S. shipping only).
Lauren is a wife, mother of two, and an avid reader. She thanks Lionsgate for the review copy of this DVD. Lauren blogs at Baseballs and Bows.

Leave a comment here to enter.
Entries will be closed on December 3, and we will announce the winners on December 4. Please watch your email and check the site for your name, so that we can collect your shipping information to pass along to the publishers.
This giveaway is now closed.
Be sure you've entered all the giveaways in our 2010 Gift Guide and Giveaway event.

Check out our current giveaways. Subscribe to our feed. Follow us @5M4B on Twitter.