I'm a calendar girl. No, not a 50's pin-up girl a la Marilyn Monroe, but I love calendars. Yes, I click the little time icon at the bottom of my task bar on my computer many many times a day to pull up the calendar for reference, but I don't keep any of my info on any sort of electronic device. I use my Busy Body Book planner for that.
But I also like to have calendars around to look at for a quick check of dates and activities. One in the kitchen for the whole family to reference is nice. My 6-year-old son likes dates, and so he likes to be able to figure out what today and tomorrow and this weekend is.
So, when I was given the opportunity to look at the Book Lovers Calendar, I accepted with a hearty "yes!" I was honestly unsure how it would look. Would it be amateurish and tacky (I don't know why that was my first assumption)? I'm happy to say that this calendar is beautiful. I am so excited to be able to show my love for books all through 2011.
Each day includes information about an author who was born on that day and lists one of his or her works, there are quotes from books and authors, and a sidebar feature on some sort of book related event or location.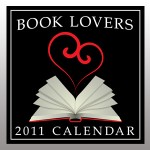 When you buy the calendar, a part of the proceeds goes to support First Book.org.
This would be a great gift to your favorite book-loving teacher, librarian, sister, aunt or friend.
I encourage you to browse the entire site of Book Lovers Stuff, and perhaps put together a little gift pack with a mug and a t-shirt to go along with your calendar.
I have a wonderful giveaway. One of you (U.S. addresses only) will receive 2 calendars — one to keep and one to give. This giveaway is closed.

Jennifer is indeed a book lover, and loves to connect with others who feel the same. She blogs at Snapshot.

Leave a comment here to enter.
Entries will be closed on December 3, and we will announce the winners on December 4. Please watch your email and check the site for your name, so that we can collect your shipping information to pass along to the publishers.
Be sure you've entered all the giveaways in our 2010 Gift Guide and Giveaway event.

Check out our current giveaways. Subscribe to our feed. Follow us @5M4B on Twitter.