'Tis the season to be shopping for books! What better gift on Christmas morning than books associated with the very holiday being celebrated?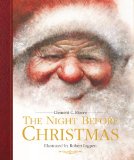 If you're the type to open a gift or two on Christmas Eve, I can't think of a more appropriate literary gift than Clement C. Moore's The Night Before Christmas. This new edition features illustrations by Robert Ingpen, and the evidence of their beauty is apparent from the cover– that is quite possibly the cutest Santa I've ever seen. Moore's complete original verse is here, and Ingpen's illustrations bring it to life with his soft sketches that are full of details and muted colors. I know what my children and I will be reading on Christmas Eve!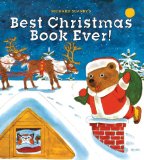 Also celebrating Christmas in book form this year is Richard Scarry's Best Christmas Book Ever! True to form, this is another Richard Scarry book full of fun illustrations of Busytown with all the favorite characters- Huckle Cat, Lowly Worm, Farmer Pig, and Big Hilda, among many others. The stories show the Busytown friends preparing for the holidays, and of course they all have the humor and gentle adventure typical in Scarry's books.
For classic holiday poetry, The Night Before Christmas is a perfect gift choice, and Richard Scarry's Best Christmas Book Ever! will certainly bring fun and laughter to young children this holiday season.
As part of our Gift Guide Giveaway, the publisher is generously offering 3 copies of Richard Scarry's Best Christmas Book Ever!(U.S. only, please).
This giveaway is now closed.

Leave a comment here to enter.
Entries will be closed on December 3, and we will announce the winners on December 4. Please watch your email and check the site for your name, so that we can collect your shipping information to pass along to the publishers.
Be sure you've entered all the giveaways in our 2010 Gift Guide and Giveaway event.

Check out our current giveaways. Subscribe to our feed. Follow us @5M4B on Twitter.
Dawn's children anxiously await the new books that greet them every Christmas morning. Their holiday tales will be shared at my thoughts exactly.