While many of us are scrambling to assemble gift lists for the loved ones in our lives, it is often easy to forget about people in need around the world. During our Gift Guide and Giveaway event this year, we'd like to take a moment to highlight a charitable giving opportunity that might find a place on your holiday lists.
IMA World Health has created Healthy Kids Kits to be distributed throughout Haiti, in over 500 locations including clinics and schools, where people are still trying to recover from the catastrophic earthquake of almost a year ago. The Kits include a bar of soap, toothbrush, toothpaste, comb, skin lotion and washcloth- simple items that go a long way toward health and wellness.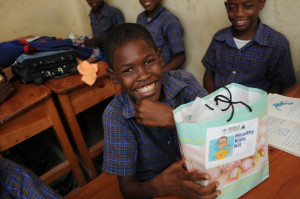 At a cost of only $15, individuals and groups can provide a Healthy Kids Kit to a child in Haiti through IMA World Health. Visit the website for details on donating. It could be a great way to honor a teacher or Sunday School teacher or world-minded friend or relative.

There is no giveaway associated with this post, but we wanted to spread the word about a way that you could give back this holiday season.
Be sure you've entered all the giveaways in our 2010 Gift Guide and Giveaway event.

Check out our current giveaways. Subscribe to our feed. Follow us @5M4B on Twitter.