When choosing books for holiday gifts, classic stories often make for treasured presents. Sterling Children's Books has recently released two classic titles with gorgeous illustrations by two of today's most prolific and celebrated illustrators.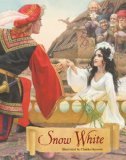 The fairy tale Snow White is well known in its many varied versions, but the recent edition illustrated by Charles Santore doesn't veer from the original telling by the Grimm Brothers, keeping intact the intensity of the evil stepmother and the cruelty of her attempts to get rid of Snow White because of her extreme jealousy. Santore's sweeping illustrations present Snow White in all her fair beauty, along with wondrous details in the expansive backgrounds. I personally tend to be a bit more squeamish about reading traditional fairy tales with my younger children, so my four year old daughter just looks at this book on her own now, but I imagine we'll be reading it together in a few short years.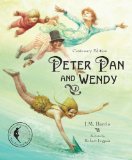 Another beloved tale, this time by J.M. Barrie, is making an appearance with a new look, thanks to the fanciful illustrations of Robert Ingpen. The Centenary Edition of Peter Pan and Wendy is a treasure to behold. With a textbook size, it feels delightfully heavy in your hands- perfect for sharing between parent and child. Peter Pan's boyish nature is simply stunning, and Tinkerbell comes to beautiful, tiny life in Ingpen's sketches, a perfect manifestation of Barrie's work, told in its unabridged entirety here. This weighty book, complete with ribbon bookmark (a feature my children adore!), would be the perfect family gift this holiday season.

As part of our Gift Guide Giveaway, the publisher is generously offering 3 copies of Snow White and one copy of Peter Pan and Wendy! (U.S. only, please)
This giveaway is now closed.
Leave a comment here to enter.
Entries will be closed on December 3, and we will announce the winners on December 4. Please watch your email and check the site for your name, so that we can collect your shipping information to pass along to the publishers.
Be sure you've entered all the giveaways in our 2010 Gift Guide and Giveaway event.
Check out our current giveaways. Subscribe to our feed. Follow us @5M4B on Twitter.
Dawn's children anxiously await the new books that greet them every Christmas morning. Their holiday tales will be shared at my thoughts exactly.