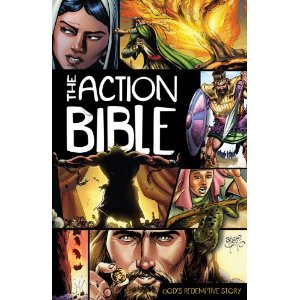 I've been reading through The Action Bible with my 6-year-old son, and we are both so very impressed!
"What do you like about it, Kyle?"
His simple answer, "Everything."
The Action Bible is a 752 page Bible story book told in comic book format published by David C. Cook. The artwork style and the text and the way the story is told with pictures and words makes it read exactly like a comic book. That drew Kyle in right away, but as a mom, I was most curious about the theology.
So far I've been blown away by the way the story is told. It is broken up into episodes — some as short as two pages, and others as long as six or eight. I have appreciated the unfolding of God's story as told in this way. The focus on the story itself without exposition or narrative has made it come alive to me as well. I feel as if instead of reading the Bible to learn from God's word, I'm understanding it on a different level as an overarching story told in a suspenseful way that focuses on action.
More mature stories such as when Joseph is tempted by Potiphar's wife are handled with sensitivity to the age group who will be reading it, yet not glossed over completely:
The narrative says: "Joseph's success also leads to trouble. Potiphar's wife falls in love with the handsome young slave. One day while Potiphar is away. . . "

Then she invites him to sit beside her (with come hither eyes), and when he flees she tells Potiphar:

"Your Hebrew slave tried to kiss me! I screamed and he left, but he dropped his robe. Here, see it?"
This would make a wonderful gift for your child or grandchild or niece or nephew. I think that ages 6 to 12 would appreciate it (especially those who already enjoy graphic novels or comics). It's the book that Kyle asks for each night, and what a great way to end the day.
Jennifer Donovan thinks that the Bible is a fascinating and action-filled story even when read on whisper thin paper pages with small dense text. Read more about her faith in action at her blog Snapshot.
I strongly recommend The Action Bible, and I'm happy to be able to give away a copy to one of you (U.S. only).

Leave a comment here to enter.
Entries will be closed on December 3, and we will announce the winners on December 4. Please watch your email and check the site for your name, so that we can collect your shipping information to pass along to the publishers.
Be sure you've entered all the giveaways in our 2010 Gift Guide and Giveaway event.

Check out our current giveaways. Subscribe to our feed. Follow us @5M4B on Twitter.