If you have a child who likes Star Wars, it's not difficult to find literary tie-ins to match his or her obsession interest. (Sorry, perhaps I'm generalizing from my own son.) Scholastic has recently released two Star Wars titles that each differ from the pack in their own way.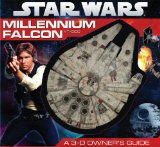 When Star Wars: Millennium Falcon- A 3-D Owner's Guide arrived on our doorstep, the ten year old wasn't the only one gushing with excitement. Both he and my husband couldn't articulate more than "This is SO cool," but even as a non-convert, there's much I can appreciate about the concept and design of this neat over-sized book. On the inside cover, readers are greeted with an introduction perfectly suited to the "owner's manual" format:

Congratulations on your purchase of a Corellian Engineering Corporation (CEC) YT-1300 light freighter. The YT-1300 is easily modified to suit the needs of busy companies as well as independent operators. With proper care and maintenance, your YT-1300 will perform reliably for many standard years."
Each page that follows shows a cross-section of the ship made famous by the ruggedly handsome Han Solo. (I may not be a SW fan, but who can resist 1970's Harrison Ford?!) A plethora of information is included about the features of the Millennium Falcon, along with several notes from Han himself about his experiences with the ship. The delicacy of the layers makes this a book that my oldest is careful to keep out of the hands of his younger siblings.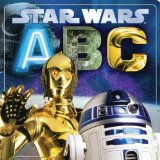 Keeping this book away from the little ones is made much easier by the release of a Star Wars book just for them with Star Wars ABC. Other alphabet books watch out- this one is perfect for kids like mine who have heard about Star Wars from older siblings for as long as they can remember. Each page of this large board book features a character or ship from the Star Wars franchise, or in the case of F: Force, a concept. The part that tickles me is the design of each letter to match its word– the hairy W for Wookiee and the belt strapped with gear that's draped around H's middle. (Oh Han Solo, you just keep appearing in this review, huh?) The whole span of the Star Wars saga is represented here, and thanks to the order of the alphabet mom Queen Amidala gets to appear on the page just following her daughter Princess Leia.
Thanks to Star Wars: Millennium Falcon- A 3-D Owner's Guide and Star Wars ABC, kids of all ages (even those well past their childhood years!) can have some literary Star Wars fun!
For another great Scholastic giveaway, check out Nancy's post today at 5 Minutes for Mom, where you can enter to win two Scholastic holiday titles, plus 4 other books.

As part of our Gift Guide Giveaway, the publisher is generously offering 2 copies each of Star Wars: Millennium Falcon- A 3-D Owner's Guide and Star Wars ABC (U.S. and Canada, please).
This giveaway is now closed.
Leave a comment here to enter.
Entries will be closed on December 3, and we will announce the winners on December 4. Please watch your email and check the site for your name, so that we can collect your shipping information to pass along to the publishers.
Be sure you've entered all the giveaways in our 2010 Gift Guide and Giveaway event.

Check out our current giveaways. Subscribe to our feed. Follow us @5M4B on Twitter.
Dawn may not be as big a Star Wars fan as others in her family, but she's always had a fondness for Yoda. Blog away she does at my thoughts exactly.