This summer, Kyle read the first Harry Potter book. He liked it (follow my link to read a bit more about that). But the book he picked up next, at his big sister's recommendation, he loved.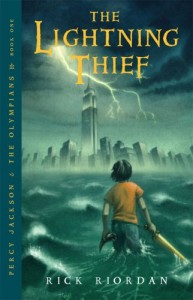 The Lightning Thief (Percy Jackson and the Olympians, Book 1) by Rick Riordan is probably the book/series that I most often hear turned kids into booklovers, or nonreaders into readers. Kyle had already gotten to the point of liking books, but these books brought out something else in him. He started book one at the beginning of August and by the beginning of the September, he had completed the 5th book. That's 5 long books in about 5 weeks. And in reality, he read a couple other books during that time as well, as I tried to convince him to spread out the books to savor them.
Though we are both out of the target age range, my teen daughter and I recently read the first two installments of Lemony Snicket's A Series of Unfortunate Events, since neither of us had read them. I think that I'll get Kyle started on them soon, but I don't see kids checking them out when I volunteer at the library. They don't seem to show the endurance that Harry or Percy has.
The new policy for him as a 4th grader is that he only checks out books every other week in the library. Because of that, he's allowed to check out 3. I've seen him (and other students) wander aimlessly through the stacks, and with no more time allotted, I wanted to prep him about some possible picks. I also suggested that he ask some of his friends to suggest books they've liked. He came home with 3 books and told me that he actually took my advice! He decided to read the Warriors series by Erin Hunter, so he asked his friend which of the series he should start with, and which was the first one. I'm not sure that these are new classics, but they do seem popular, and they have endured.
What do you think? What books or series are older siblings passing down to younger ones these days that are making the leap into new classics for kids?
Check out our current giveaways. Subscribe to our feed. Follow us @5M4B on Twitter or on Facebook.