As parents, we try to screen our children from media that we find unacceptable for their age, and it's no different from books. We try to give an idea of content that might be objectionable for the age in our children's book reviews, but since content varies from person to person, what seems okay to me for an upper middle-grade reader might not be okay for you (you can always leave a comment asking the reviewer about the specifics).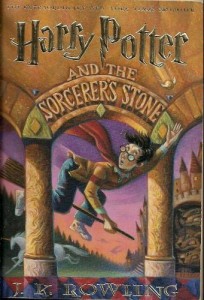 I remember when there was a lot of furor over the Harry Potter books. Some conservative Christians protested their inclusion in school libraries and classroom curriculum. My daughter was too young to read them herself at the time, but as she was already beginning to find her destiny as a confirmed bookworm delving into the Magic Tree House and the Boxcar Children, I knew the time would come when she'd want to discover Hogwart's as well.
As a Christian myself (conservative, even), I wasn't opposed to magic in general — after all, isn't Narnia magical? and what about Oz? But I could understand some of the possible issues of concern. I had several adult friends who had already fallen in love with the bespectacled hero, so I bought the first two books before a trip one summer, so I could check him out myself. And it was fine. I was glad I hadn't just blindly given in to the hype and taken the time to decide for myself. I'm not knocking those who choose not to read it, or don't want their children to (though I don't really see any cause for concern), but for me and my family, it was fine. I did make Amanda wait to start reading until she was in 4th or 5th grade. With the amount of time she spent reading, I knew that once she started, she could have zoomed through the books too quickly, surpassing her maturity level, and they do get more mature and more intense as they go along. Kyle is finishing third grade, and I'm considering him letting him read the first two this summer.
That was something I did right, but I only recently discovered something I did wrong.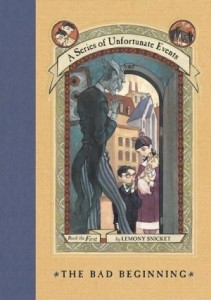 I had taken a few negative and critical reviews/comments of Lemony Snicket's A Series of Unfortunate Events to heart. I thought they were sinister and inappropriate, so I told Amanda at some point that she shouldn't read them. Even though she's about to finish her first year of high school, we still enjoy reading books aloud, and oftentimes they are middle grade books that we both still enjoy even though we've aged out of them officially. When we were trying to figure out what to read next, she said, "You know, I never read A Series of Unfortunate Events, but I've heard they're good." She hadn't even remembered that I had been the reason she had never read them. I had downloaded the first one on my Kindle at some point when it was a free title, so we got to it immediately.
We were immediately charmed and amused. Inappropriate? Creepy? Not really. Count Olaf is bad, but everyone knows he's bad. He's supposed to be bad. Lemony Snicket tells us he's bad and the children are going to suffer from unfortunate events. We were enjoying the first one so much that when I saw the next one at a used bookstore for a dollar, I snatched it up, and we're reading it now. I'm going to keep my eye out for bargains, and perhaps complete the series. This is another one that I might see if 9-year-old Kyle would like to start this summer. He's a little tender-hearted, but he also has a great sense of humor, so I'll just have to see how he takes the first one to see if now is the right time.
Tell me I'm not the only one. Have you ever forbidden something that turned out not to be so bad? Or maybe you've allowed something that you later found out more about and regretted that (I've done that too!)? Leave a comment and let's discuss!