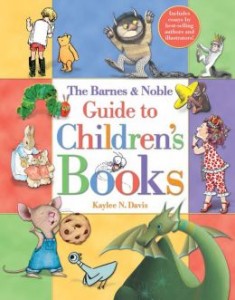 Choosing quality children's literature can be a tricky task, whether you're searching the library shelves for something to read with your own child or looking to purchase a gift for a friend's little one. While there are no limits to the numbers of book blogs offering suggestions (including us!), even those of us who adore children's books like to consult an expert once in a while, too. Kaylee N. Davis, a children's book specialist and literary agent, has compiled an incredible collection of titles to recommend in The Barnes & Noble Guide to Children's Books.
As an early childhood educator and a children's lit lover myself, I was thrilled to not only recognize every character on the front and back cover, but also to turn the pages in this book and be reminded of so many fabulous books. The guide is broken down in sections by age and unique genres: Newborn to 2 Years; Picture Books Ages 2-6; Chapter Book Series Ages 6-8; Middle Grade Readers Ages 8-12; Innovative Formats; Fairy Tales, Folktales & Anthologies; Poetry; Growing Up; and Nonfiction & Reference, featuring only the "best of the best." I appreciated the fact that there is a good mixture of work by contemporary authors along with many classic pieces of children's literature, ensuring that lots of familiar titles will be seen along with many recommendations likely unfamiliar to new parents.
Let me reassure you that this is not simply a collection of titles, for each recommendation features full-color cover images as well as an informative description of each book. Each section also contains essays by beloved authors in that reading level or genre. Parents of toddlers will be happy to see an essay by Sandra Boynton on her influences as a writer, and picture book fans will smile when reading Kevin Henkes express his joy at being an author. Even one of my own personal favorites, Mo Willems, makes an appearance, in an essay that reminded me to encourage my children's efforts in drawing and writing stories of their own.
If you're looking for a gift for a new parent, or even an end-of-the-school-year gift for a children's book loving teacher, be sure to check out The Barnes & Noble Guide to Children's Books, a guide that will surely be welcomed on any kid-lit fan's shelf.
Dawn loves reading and talking about children's literature almost as much as reading the actual books to children. Every summer, Dawn highlights five picture books of the week on her blog, my thoughts exactly.