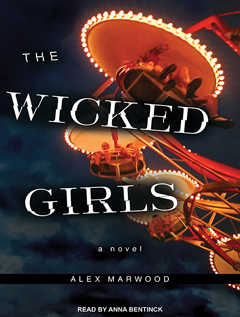 Belle and Jude are notorious. They were branded as "wicked girls" after killing another girl when they were only 11 years old. When they were on trial, 25 years ago, the laws that kept the names of minors out of the news had not yet been passed, and so now they've entered into a sort of witness protection program. They went to juvie, but then went on to live normal lives as Kirsty Lindsay and Amber Gordon . Kirsty is a newspaper reporter and Amber works as a cleaner at a seaside amusement park. But normal? Maybe not so much.
The Wicked Girls is advanced through the present-day events that Kirsty and Amber experience, "normal" family and work issues, their run-in as adults, and flashbacks from that fateful day when they were eleven. The reader is kept in the dark about how they got from there to now, and even what might have caused them to kill in the first place, which adds to the suspense of the story. As I learned each part of the story, I grappled more and more with the concept of wicked versus redeemed. Can we ever really get over our past mistakes? And do some mistakes — like causing someone's death — mark or change you for life? And if they don't, should they?
I've heard a lot about this novel, and I can see why. As you can see, The Wicked Girls by Alex Marwood got me thinking, but I didn't think so hard that I couldn't just enjoy it.
NOTES ON THE AUDIOBOOK:
I love hearing books that are set elsewhere (specifically many, such as this, in the U.K.) as audiobooks. It underscores the setting hearing the accented voice narrate the story. In this one in particular, reader Anna Bentinck does a great job of distinguishing not just the character's voices but also the accents that come from the different regions and classes.
This was a great audiobook listen, and I highly recommend this format if you are an audiobook fan. Check out the Tantor Audio page for a sample and more information on the title.