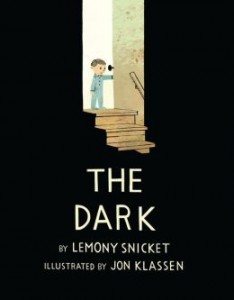 Laszlo was afraid of the dark.
These six words float on the page above the head of a little boy playing with vehicles on the floor in his house, as the sun is setting just outside his window. As he looks out at the oncoming evening, the flashlight face down on the floor next to him is in his line of sight, and is obviously something he likes to keep nearby. Though Laszlo does not look terribly frightened, there still is a slightly ominous feeling to the opening page. The awesome partnership of author Lemony Snicket and illustrator Jon Klassen in The Dark makes for an unconventional, yet wholly entertaining picture book.
Snicket, arguably best known for his A Series of Unfortunate Events books, doesn't write typical kids' books, which I discovered when I reviewed his picture book 13 Words a few years back (linked to my review). In The Dark, the story progresses along in a traditional manner, with poor little Laszlo encountering a problem with the dark early in the book, but the tone of the storytelling is unique to his work. Klassen's signature illustrative style is the perfect accompaniment to Snicket's word choice– both somewhat minimalist in style, but still conveying a lot of emotional depth.
I recently read this book aloud with a small group of kindergartners, and I gave a good amount of thought as to how "spooky" I was going to read it. Though not outright frightening in nature of the words or shocking in the illustrations, the story itself deals with a topic that some younger children might find a little bit scary based on their own personal feelings about the dark. These five and six year olds reassured me that they weren't scared of the dark at all, but it was clear from watching their faces that some of them experienced the fun anticipation of not knowing what would happen next in the story as we read it together.
All is well by the end of the book, as Laszlo discovers the helpful side of the dark and feels empowered to handle a situation by himself. I happen to love picture books that are just a little bit different than the average book, and The Dark fits the bill perfectly.
Dawn's picture book obsession benefits her younger children quite well, and by the time they're ready to move out, she'll be able to easily fill an empty bedroom with nothing but books. She blogs intermittently at my thoughts exactly.