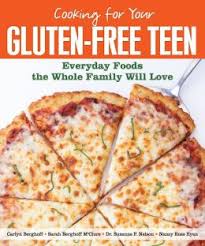 The story behind Cooking for Your Gluten-Free Teen
is almost as interesting as the book itself. Carlyn Berghoff is a chef by profession and a mother to a daughter who was diagnosed with Celiac disease. In the opening pages of this book she explains what her daughter's symptoms were, how she came to be diagnosed with Celiac and how this diagnosis affected their household as she made the decision to put their entire family on a gluten-free diet for simplicity sake. Berghoff fully acknowledges that going gluten free can be a complicated and expensive thing and that it takes some getting used to. She wanted to put together a book that would serve as a helpful guide and handy tool to families who have members suffering from this same disease so that the journey to a gluten-free lifestyle might not seem so unachievable as it might sometimes feel.
I wanted to pick up this book because my naturopathic physician suggested that I eat less gluten. It is rather a daunting task when you are first getting started to figure out exactly how to cut gluten from your diet. Thankfully I don't have to go cold turkey like the Berghoff family did but if I had to, this would be a handy book to have on hand. One thing which I very much appreciate Carlyn Berghoff pointing out at the beginning of the book is that it's easier for teens (who are more driven by peer pressure) to maintain a gluten-free lifestyle by choice if the foods that are prepared for them are delicious and common enough that their friends would be just as happy eating gluten-free alongside them as not. I think that is true of adults too. One of the primary ways our family enjoys fellowship with others is through the sharing of meals and sometimes I find it hard to want to share meals when I know there are going to be a lot of bread products involved. (Again though, I can eat them and I love to do so! I just should try not to and it's hard to avoid it when we're with friends.) Hence I was very interested in this book because if I can learn how to prepare gluten-free foods well – in a manner that makes them edible and appealing to all – then it's easier for me to relax into a meal with friends.
In this book you'll find gluten-free recipes for bread (so as to make hotdog buns, hamburger buns, rolls, etc.), soups, dips, pizza dough, cake, brownies, lasagna, pancakes, spring rolls, cinnamon buns, quiche, macaroni and cheese, crispy fish or chicken and much, much more! It's a treasury of common food items that we love to make and eat but feel like we must learn to live without if going off gluten. It's nice to know that there are easy ways to avoid the gluten while still enjoying the goodies in the company of others!
Cooking for Your Gluten-Free Teen: Everyday Foods the Whole Family Will Love
is definitely a book worth poking through if you are curious about how to cook gluten-free recipes for your family and friends to enjoy. I highly recommend it!
Thanks to Andrew McMeel Publishing, LLC for shooting a copy of this book my direction in exchange for my honest thoughts!
Carrie blogs about books over at Reading to Know.