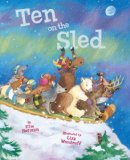 A familiar rhyme gets a wintry makeover just in time for the holidays this year. Kim Norman's Ten on the Sled uses the same rhythm and tune as the traditional "Ten on the Bed" song probably familiar to many of us and our children. Instead of babies squished together on a bed, this cute picture book presents ten wild animals trying to find space on an enormous toboggan sliding down a snowy mountainside.
Parents will enjoy reading or singing this book with their children, both for the musical and rhythmic nature of the story, but also for the cute humor as the mix of animals is somewhat unexpected. (Not many snowy mountains that I've seen have seal and walrus residents!) As each animal tumbles, rolls or shoots off the sled, there's certainly more room, but it comes as no surprise that the sole rider left at the end is much too lonely to enjoy the sledding experience. My own kids love that the ending comes full circle, with all ten animals returning to the sled for another exciting ride.
The illustrations make me smile– from the reindeer's rainbow striped leg warmers to the fox's large protective helmet, these animals are prepared for some wintry fun. The snowflake adorned end pages set the tone right away, and I just know this will be a favorite read this winter as we look forward to our own sledding adventures. I do believe Ten on the Sled would be happily received by any young children on your shopping list this season!

As part of our Gift Guide Giveaway, the publisher is generously offering 3 copies of Ten on the Sled! (U.S. only, please)
This giveaway is now closed.
Leave a comment here to enter.
Entries will be closed on December 3, and we will announce the winners on December 4. Please watch your email and check the site for your name, so that we can collect your shipping information to pass along to the publishers.
Be sure you've entered all the giveaways in our 2010 Gift Guide and Giveaway event.

Check out our current giveaways. Subscribe to our feed. Follow us @5M4B on Twitter.
Dawn's children anxiously await the new books that greet them every Christmas morning. Their holiday tales will be shared at my thoughts exactly.